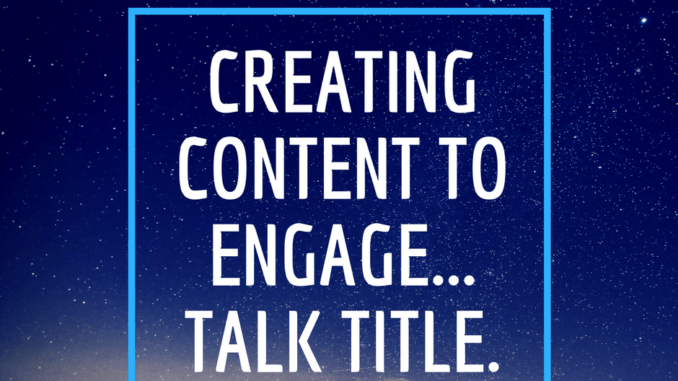 Creating content to engage your three audiences talk title description. The podcast blog supplement for iHeartRadio's Wait What Really Ok Podcast Episode 73, "Time management for your branding and marketing to do lists"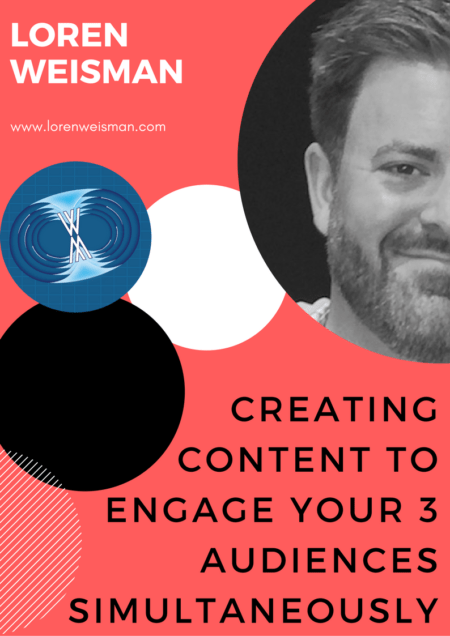 Creating Content to engage your three audiences simultaneously talk title.
The missing piece in many businesses regardless of the business, service or product is the engagement of the message in its content marketing and promotion that crosses the three audiences. In this talk title, Loren digs into the ideas of creating content that has a longer endurance and better connection for businesses to share with customers, fans and strangers alike.
Marketing and content that can be built to maintain engagement, continue conversations and simultaneously build optimization, saves tons in advertising and reduces the oversaturated and overheard sell that echoes online every day. Instead of external templates of marketing companies that use the same message for competitors, creating more individualized and personalized messages and content, the message becomes so much more effective across the board.
We often lose the engagement and push to only present an advertisement. Still, engaging content can be the best advertisement you create and the best way to maintain an existing audiences attention as you reach for others at the same time.
Creating content to engage should always be the priority.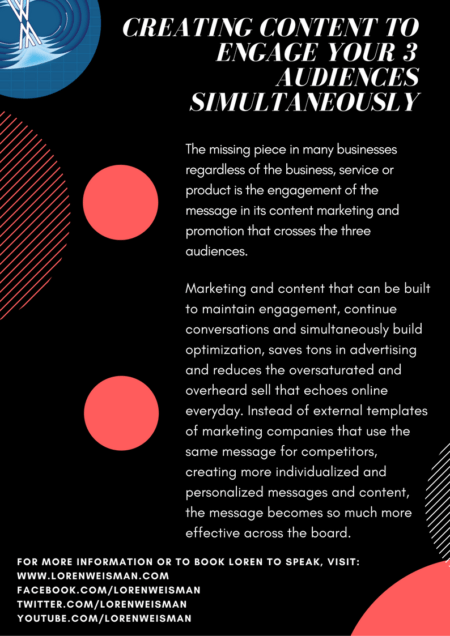 How you lead the discussions of marketing and branding can inspire the creation of the best content that will result in the highest level of engagement and conversion. By thinking about gearing the message to the existing customer, the familiar with you but hasn't converted person and the individual that has no idea who you are… (your three audiences) with the same content, you build a greater bond, better relationships, and an endurance audience.
Talk title takeaways.
In this workshop you will learn:
How to understand the four fundamentals of psychological engagement online.
The numerous proven benefits of three-style engagement content.
How to create, optimize & distribute promo materials so they don't feel like a sell.
The five formats of content to apply to your marketing.
The upside down and loose editorial calendar for yourself.
How to spot and exploit the best message with the least cost to grow conversion.
How to deal with 3 audiences simultaneously and remembering each of them.
How to create a streamlined for your use or for handing off to other marketers.
Presenter Loren Weisman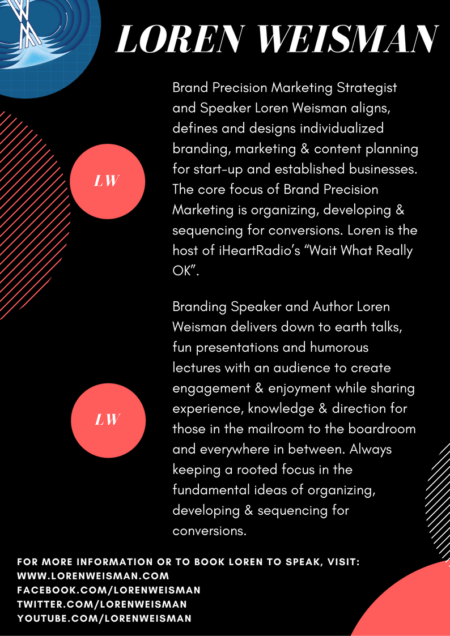 Brand Precision Marketing Strategist and Counselor Loren Weisman aligns, defines and designs individualized branding, marketing & content planning for start-up and established businesses. The core focus of Brand Precision Marketing is organizing, developing & sequencing for conversions. Loren is also the host of iHeartRadio's "Wait What Really OK".
Branding Speaker and Author Loren Weisman delivers down to earth talks, fun presentations and humorous lectures with an audience to create engagement & enjoyment while sharing experience, knowledge & direction for those in the mailroom to the boardroom and everywhere in between. Always keeping a rooted focus on the fundamental ideas of organizing, developing & sequencing for conversions.
From musicians to authors, restaurants to real estate and entertainment companies to insurance agencies, Loren works with everyone, from CEO's to administrative assistants to help solidify and demystify the fundamentals of content branding, promotion, and marketing, to create higher engagements that convert to sales, profits and customer retention.
The consistency in your content creation will allow for more to continue to connect with new content as they also find the old.
PDF Download 
Download the four-page Talk Title PDF for the Creating Content To Engage Your Three Audiences Simultaneously Talk Title here: Talk Title for keynote Speaker Loren Weisman
To book Loren for this talk or others, visit https://lorenweisman.com/ for more information.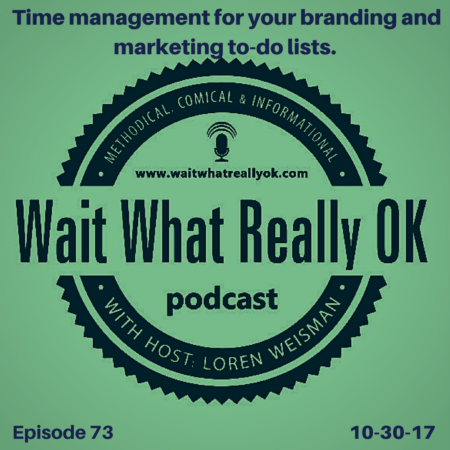 Knowem.com is the Podcast Link Supplement this week.
This is a great place to start when you are starting to create the foundation of your brand.
Search over 500 popular social networks, over 150 domain names, and the entire USPTO Trademark Database to instantly secure your brand on the internet.
The Podcast Link Supplement for Episode 73 of the Wait What Really OK Podcast is Knowem at https://knowem.com
Between the mixture of those that make out that working a certain number of hours means they are being effective to those that feel they need hours straight to work on a project instead of working on it in small segments and bits of time, time management for your branding and even your sanity can be a challenge.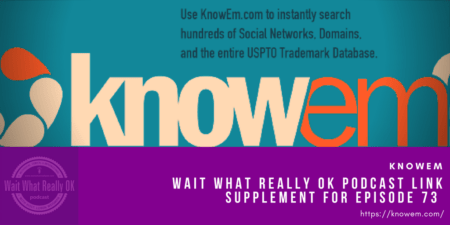 Tune In on iHeartRadio to listen to Episode 73, "Time management for your branding and marketing to do lists" of the Wait What Really OK Podcast below:
Only getting the A and Z without the B through Y, leaves you SOL. The Podcast video supplement for iHeartRadio's Personal Branding Podcast, Wait What Really OK Episode 73, hosted by Brand Consultant and Keynote Speaker Loren Weisman titled "Time management for your branding and marketing to-do lists."

***********************************************
Loren Weisman is a brand messaging strategist and branding speaker with a focus on the authenticity, authority, optics, psychology and perceptions of a brand, persona or product.
*****************************************************
Loren Weisman Brand Messaging Strategy Services
207 West Plant Street, 770991
Winter Garden, Florida, 34777-0991
brandmessagingstrategy@gmail.com
*****************************************************
For some thoughts, tactics, tips and views from Loren, consider stopping by any of these links.
Loren's Blogs
iHeartRadio Podcasts
YouTube Videos
Instagram Pictures


And other places online


Brand Messaging Strategy Services List
************************************************
Creating Content to engage your three audiences talk title description