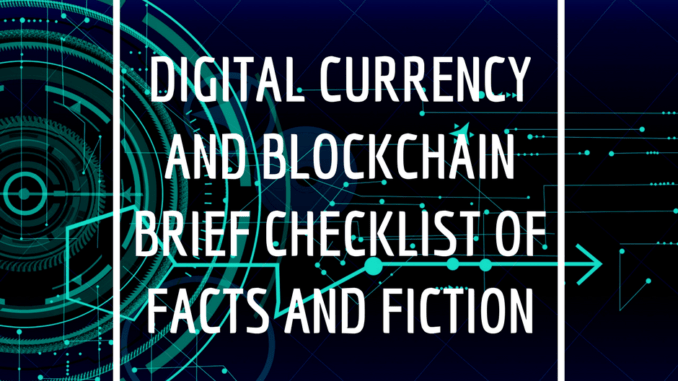 Digital currency and blockchain checklist (a short one) of facts and fiction is the podcast blog supplement for iHeartRadio's Wait What Really OK Podcast Episode 86.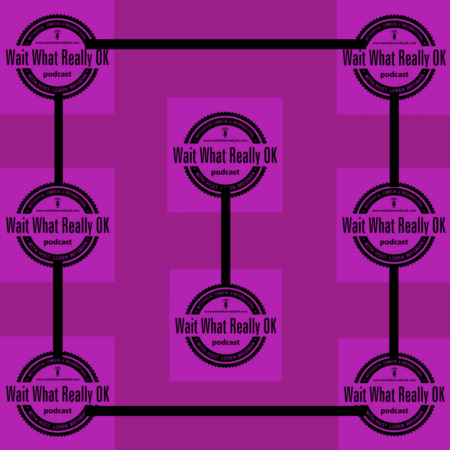 Digital currency and blockchain checklist abbreviated.
Doug Fish from Fish Holdings gives a few simple examples of a few true and false pieces that help to explain and clarify aspects of digital currency. A great deal of half-truths, hearsay and rumors have taken this world by storm. This is not the end all be all, but here are three facts and three pieces of fiction to help you on your journey to understanding this world.
Digital currency and blockchain checklist of truths.
1)  Digital Currency (cryptocurrency)  is the next evolution of money
– True:  While still relatively unknown, so was the internet when it was launched.  It has the potential to be the safest, fastest and cheapest form of payments both locally and internationally.
– True: Currently digital currencies can be bought and sold on currency exchanges.  There values move up and down daily.
3)  The blockchain has the potential to change the world
– True:  Big business and top leaders have figured this out and are pouring millions into developing this technology.  It is leading the charge on transforming the global financial platforms and is producing groundbreaking opportunities in the recording. storing and executions of data, information and contract executions.
Some false parts of the digital currency and blockchain checklist

1)  Digital Currency is nothing but a scam
– False:  Evil exists in the world.  Cell phones and their camera capabilities have been used for documented crimes.  Look for the good and lead with how technology can make the world a better place.
2)  The blockchain is not secure
– False:  There are several stories of lost and stolen bitcoins and other digital currencies.  What is not known is that these thefts did not happen on the blockchain itself but rather in and around the exchange platforms they do business with.
3)  I can wait until someone else figures out how to use digital currency before I need to use it.
– False:
 Most of the world operates under this attitude while the rich keep getting richer.  If you do any shopping, learning or business online, start learning now.  Not only can it be profitable to your life's bottom line but you can make a difference by helping others save money as well.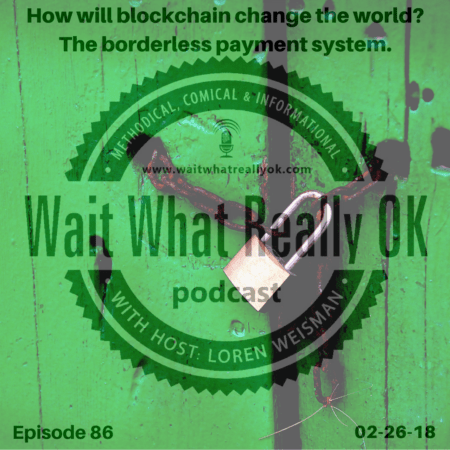 The podcast link supplement for episode 86 of the Wait What Really OK Podcast is the Crypto N' Kafe article. The full story is here: https://coinpedia.org/press-release/cryptonkafe-will-transform-african-coffee-industry/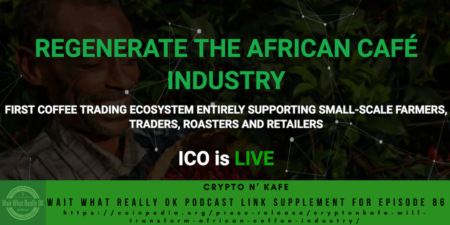 If you would like to hear episode 86, "How will blockchain change the world? The borderless payment system." of the Wait What Really OK Podcast, it is available on iHeartRadio below:
The podcast video supplement for Wait What Really OK Podcast episode 86 is called whats the blockchain? A decentralized public general ledger system.
*******
Brand Messaging Strategist Loren Weisman is a contributor for FSG Messaging and Optics. Loren focuses on the authenticity, authority, optics, psychology and perceptions of a brand, persona or product. Loren is also the host of the brand messaging podcast; Wait What Really OK.
*******
Fish Stewarding Group
& FSG Messaging and Optics
(Orlando Division)
207 West Plant Street
Winter Garden, Florida, 34777-0991
Wb: https://fishstewarding.com/
Em: brandmessagingstrategist@gmail.com
Ph: 001-407-614-7446
*******
Loren Weisman Links:
Website
IMDb
YouTube
Twitter
Instagram
Amazon
LinkedIn
Send2Press
Audible
Google Business
*******
Brand Messaging Podcast Listening Links:
Pandora
Amazon Music
iHeart
Apple Podcasts
Spotify
Google Podcasts
Stitcher
TuneIn
Radio Public
Castbox
Podcast Addict
Pocket Casts
Podbean
YouTube
RSS Feed
*******
Brand Messaging Podcast Social Links:
Podcast Info Page
Twitter Page
Facebook Page
Instagram Page
Google Business Page
Podcast IMDb Page
*******
Brand Messaging Podcast Music Credits 1:
Opening Theme Song
"Fully Licensed Wait What Really Ok Theme Song" by RKVC.
Copyright 2016 eMbloh Music (ASCAP)/ Cienzo Music (BMI).
Administered by Ass Backwards Music (ASCAP)/Bass Ackwards Music (BMI)
RKVC Website
*******
Brand Messaging Podcast Music Credits 2:
Closing Theme Song
"News and Information Podcast Percussion Outro" by Doug Hinrichs.
Copyright 2016 Dig And Be Dug Music (BMI).
Administered by Bass Ackwards Music (BMI).
Doug Hinrichs Website
*******
Digital currency and blockchain checklist (a short one) of facts and fiction
Feed Shark