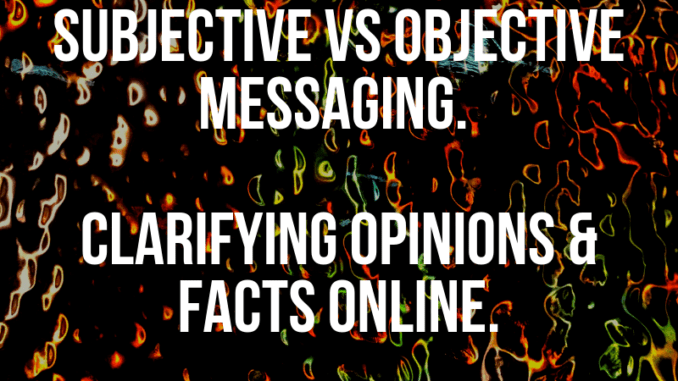 Subjective vs objective messaging. Clarifying opinions and facts online. With so many stating opinions as facts while so many others jump to assume an opinion is a fact, it has brought even more anger online and with engagement between people that do not agree.
Sounds obvious to many, simple to others, and yet a great deal of people miss the boat or make the assumption that the intention of their message is going to be the perception of those receiving it. 
Subjective vs objective messaging. Clarify the content of your content.
The lines have been blurred heavily when it comes to opinions and facts. From those that push their opinions as facts in an arrogant and unprofessional way to those that share their opinions but do not clearly define that they are coming from a subjective standpoint.
Some want you to fail…
Sad but true, there are many out there looking to find a quote, a blog, a sentence or anything to make you look bad. It happens in politics, business and even in romantic relationships. And while this can not be stopped, that extra level of clarification of the subjective vs objective messaging that you share online and off can help to some extent.
Clarifying opinions and facts online by stating your views clearly and backing up the facts with proof.
There are plenty that attack in anger and others responding online in fear. The toxic aspects of communication and the lines that have been erased between fact and opinion have become overwhelming. So how do you respond in fear or for that matter , how do your readers? How do you clarify fact or how do your readers see you? Again, this is not saying for you to change the style of who you are and how you write.

It is more about reinforcing and clarifying what you write. 
When it is a fact, back up the fact. Call it a fact and prove it is a fact. Otherwise, do not call it a fact.
That simple!
And when it is an opinion. State it is an opinion, why it is an opinion and why you feel that way.
It is not about justifying your views. it is about defining they are your views.
This kind of clarity and consistency in your content will allow you to be seen as an authority when you state something is a fact and at the same time, give people a clear differential of your views as you choose to humbly state an opinion.
Get away from saying this is a proven fact… and give the data to prove it.
Stop sharing that studies have shown and share the links to the reputable studies.
Take that extra time to clarify which will in turn amplify your authority and authenticity.
It will not please everyone, but you will earn a greater level of authority when you state only facts you can back up, while clearly identifying when something is your opinion. That clarity in your content will help you stand out in a sea of those online those
blurred lines
between fact and opinion.
LW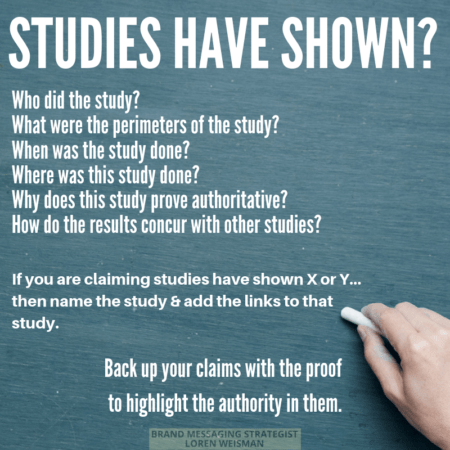 *****************************************************
Loren Weisman is a Brand Messaging Strategist with a focus on the authenticity, authority, optics, psychology and perceptions of a brand, persona or product for The Fish Stewarding Group.
*****************************************************
Weisman Brand Messaging Strategy Services
(A subsidiary division of The Fish Stewarding Group)
207 West Plant Street #770991
Winter Garden, Florida, 34777-0991
*****************************************************
For some thoughts, tactics, tips and views from Loren, consider visiting any of these links:
Fish Stewarding Group Website
Loren's Website and Blog
Loren's Wait What Really OK Podcast
Loren's YouTube Videos
Loren's Instagram 
Loren's Amazon Author Page
Brand Messaging Strategy Services List
*****************************************************
Subjective vs objective messaging. Clarifying opinions and facts online.