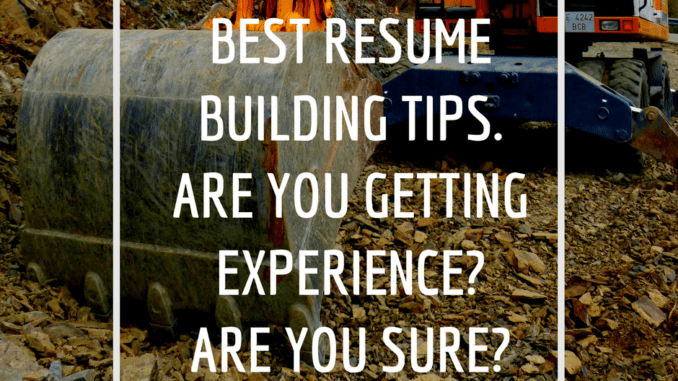 Best Resume Building Tips. Are you getting experience? Are you sure? A brand messaging podcast blog supplement for brand messaging strategist Loren Weisman's Wait What Really OK Podcast.
The best resume building tips center Around…
Experience. Yes, there are so many ways to fluff a resume and every coach out there, has this phrase or a way to make this job sound better. Still, its all BS and all hype. Work up your experience.
While you cant get five years experience working at a recording studio in five weeks, you CAN get five weeks experience as an intern, which can show both effort and a drive and determination to get out there.
While some types of experience are not going to be easy to get, you can make the time to work in the short term and begin to build for the long term. And this is worlds better than working on hyping and lying on a resume.
 Simply, don't complicate
Deliver the job title in a simple way and if you are going to impress, then impress with the duties you performed and built experience doing. At the same time, don't go crazy with hyping those duties. Many would rather get a clear sense of what you have done and what you know how to do over reading crazy titles or duties that sound much more than they are or much more confusing than they are.
Best Resume Building Tips. Cross Marketing!
While some think certain skills and experience don't apply in other places, they just might and they should be mentioned. For example, if you had to sign a non-disclosure or confidentiality agreement and you have the good references of being able to keep your mouth shut, regardless of what job it was, you are showing both experience and skills in privacy or intellectual property protection.
The best resume building tips come down to building off the experience you have and the experiences you are going after currently. Put the time into organizing, clarifying and simplifying what you have done and what you can do as you continue to work on your education and building more experience in the things you want to do.
*****************************************************
Loren Weisman is a Brand Messaging Strategist with a focus on the authenticity, authority, optics, psychology and perceptions of a brand, persona or product for The Fish Stewarding Group.
*****************************************************
Weisman Brand Messaging Strategy Services
(A subsidiary division of The Fish Stewarding Group)
207 West Plant Street #770991
Winter Garden, Florida, 34777-0991
*****************************************************
For some thoughts, tactics, tips and views from Loren, consider visiting any of these links:
Fish Stewarding Group Website
Loren's Website and Blog
Loren's Wait What Really OK Podcast
Loren's YouTube Videos
Loren's Instagram 
Loren's Amazon Author Page
Brand Messaging Strategy Services List
*****************************************************
Best Resume Building Tips. Are you getting experience?
Hypersmash