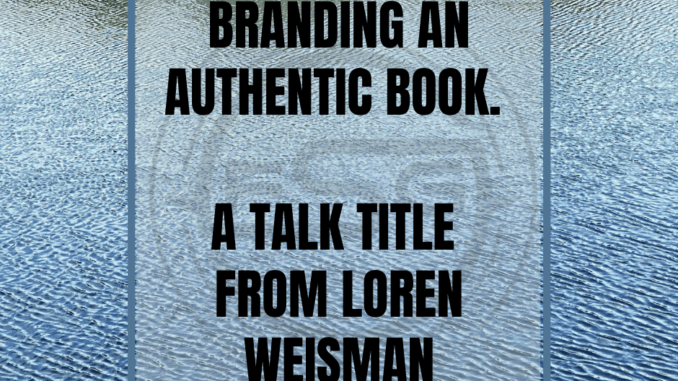 Branding an authentic book talk title description from Loren Weisman. A Brand Messaging podcast blog supplement for Brand Messaging Strategist Loren Weisman's Wait What Really Ok Podcast.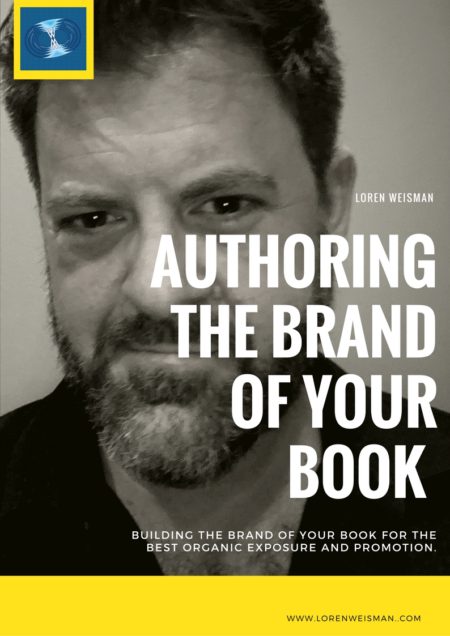 Branding an authentic book. Talk Title.
The Talk Title Description for Brand Messaging Strategist Loren Weisman's talk called Authoring the brand of your book. The root of the talk discusses how authors, literary agents, and publishers can take more proactive approaches to forming the brand of a book prior to its release to help launch it by building the brand of your book for the best organic exposure and promotion.
It is very easy to write a book and very easy to publish a book these days. It is also very easy to get it up on Amazon. However, it is not as easy to write a good book and It is not as easy to write an authentic and authoritative book.
Building the brand of your book for the best organic exposure and promotion.
Branding tends to be one of the last thoughts on any writers mind as they are penning a manuscript. However in today's market, having a book that is aligned with an organized brand messaging strategy and content plan allows for the greatest marketing and promotional opportunities including sales, exposure, and organic media awareness.
Authoring and branding an authentic book. Talk Title Description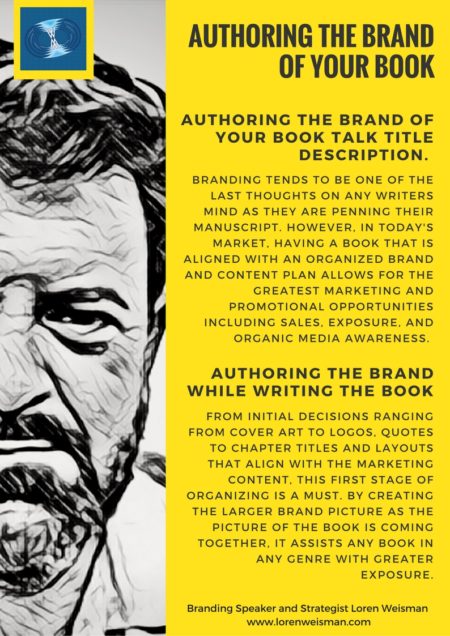 From initial decisions ranging from cover art to logos, quotes to chapter titles and layouts that align with the marketing content, this first stage of organizing is a must.
By creating the larger brand picture as the picture of the book is coming together, it assists any book in any genre with greater exposure.
This also allows you to stand out in a sea of false books and writers who are only using a book to promote themselves with out the authority or information to help the readers.
Authoring the brand of your book takeaways
In this workshop, you will learn/takeaways
What is in a name or chapter title?
Why are pull quotes so effective for marketing?
The three-audience marketing plan.
"Not everyone has a book in them." and why
Expanding the stories to cross-market the book.
The editorial calendar approach.
Easter eggs and how useful they can become.
Pre-emptive marketing with fun foreplay hype that connects.
Plagiarism or close call adjustments before publishing steps.
Video applications and I am not talking ads!
Audiobook extensions and expansions. Lolly, Lolly, Lolly, get your ISBN's here!
Multiplying the products and the presence
Maintaining engagement and marketing with people that already have the book.
Remember Weisman states…"Publishing a book does not make you an authority or an expert. Authorship doesn't not equal authority."
Author and Presenter: Loren Weisman

*************************************************
Loren Weisman is a brand messaging strategist with a focus on the authenticity, authority, optics, psychology and perceptions of a brand, persona or product for FSG Messaging and Optics. FSG is stewarding strategic solutions by educating, developing and transitioning businesses through strategic guidance and process architecture.
*************************************************
Weisman has stayed up to date with the constant changes inside and outside of the entertainment industries over the past three decades as well as keeping up with the pulse and optics of content creation, marketing, promotion, and social media trends, allowing for the most effective, and up to date consideration when applying the individualized and personalized methods, approaches and plans.
*************************************************
Starting his career in music and behind the scenes as a drummer and then music producer, Weisman got to see the ins, outs, ups and downs of music. He wrote both "The Artists Guide to Success in the Music Business" (Greenleaf Book Group) and "Music Business for Dummies" (Wiley & Sons).
*************************************************
Shifting to TV production as well as authoring a few books on the music business, Loren gravitated toward the strategic production elements as much as he did the psychological ones. From speaking and counseling on brand messaging to brand discovery, analyzing the two sides of artistic vision while igniting the investor confidence, as well as brand protection and amplifications approaches for marketing, sales and retention, Weisman helps across the array of the story and the messaging experience.

*************************************************
Loren's speaking and talks focus on the brand messaging strategies, marketing perceptions, audience optics and authentic engagement methods.
*************************************************
"The messaging has to come before the marketing and the discovery of the brand. This allows the foundation of what it will be built on, to be understood as much as possible. Too many jump into marketing too soon. They advertise and push too much time and money at redundant approaches that are not individualized for the person, brand or product." Says Weisman.
*************************************************
When the brand is built with the considerations of perception, education, protection, process and discovery, a greater authenticity can shine through. By stewarding strategic solutions with authentic methods and applications, businesses, brands and people learn how to build messaging with a voice and a set of stories with a strategy to allow them the most traction for long term conversion.
************************************************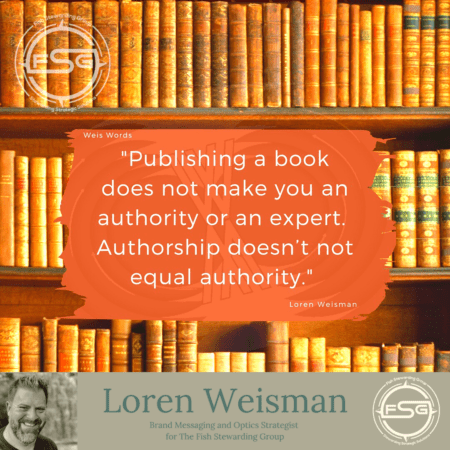 Download the four-page PDF for the Authoring the brand of your book Talk Title here: Author Talk Title Download
Episode 71, "Why would you hire a brand messaging strategist to help you with a book?" of the Wait What Really OK Podcast is available below: