Messaging Podcast Season Recap. Wait What Really OK Season 6 from Brand Messaging Strategist Loren Weisman. These are the ten episodes of season six of Wait What Really OK and links to different show locations.
Messaging Podcast Season Recap.
Season six was dubbed with a few names:
– What I did on my Covidcation Season
– The Covid of Uncertainty Season
– Coronacation Audios from Quarantine Season
Or just
– Wait What Really OK Messaging Podcast Season 6.

Messaging Podcast Season 6 Recap Episode titles include:
Validation and vetting validity for those you want to hire.
s6. e10. n113.
Published on August 4, 2020
Spreaker Link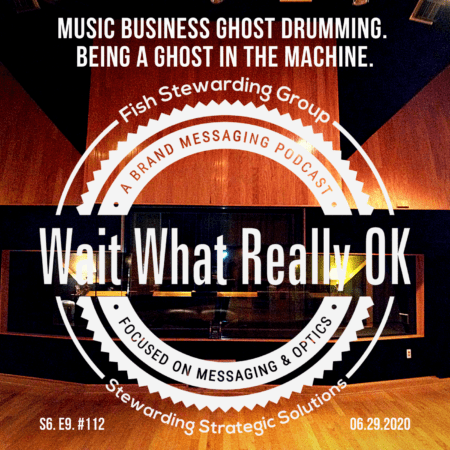 Music Business ghost drumming. Being a ghost in the machine.
EP 112
Published on June 26, 2020
Apple Podcasts Link

Authoring an authentic book to spotlight your knowledge.
EP 111
Published on June 17, 2020
Player.FM Link

Stewarding strategic solutions in opinionated conversations.
s6.e7.n110.
Published on June 5, 2020
YouTube Link
Online Reputation Management for your Brand Messaging Optics.
EP 109
Published on May 28, 2020
Blubbry Link
Experiencing premature communication needs with your vision.
EP 108
Published on May 18, 2020
Pandora Link
Subjective and objective clarification for brand messaging.
s6.  e4. n107.
Published on May 11, 2020
iHeartRadio Link
Brand Messaging Strategy Questions for Brand Discovery.
EP106
Published on May 4, 2020
Google Podcasts
Brand Messaging Podcast Trailer for Wait What Really OK.
EP 105.
Published on April 30, 2020
Spotify Link
Coronavirus Character Traits. Some can see your true colors.
EP104.
Published on April 24, 2020
CastBox Link
And that's all for season six and the Messaging Podcast Season Recap. Onward and forward on to Season seven.
This Brand Messaging Podcast is available on Pandora, iHeart, Apple Podcasts, Spotify, Google Podcasts, Stitcher, TuneIn, Radio Public, Castbox, Podcast Addict, Pocket Casts, Podbean, Acast, Audio Burst, Plex, Anchor, Jio Saavn, Spreaker, Ivoox, Overcast, Blubrry, Bullhorn, Podbay, Podchaser, Gaana, Podhero, Himalaya, Deezer, Chartable, Player.Fm, Digital Podcast, Listen Notes, Goodpods, Podtail, Learn Out Loud, American Podcasts, Mixcloud, Soundcloud, Hubhopper, Podscribe.Ai, Audry, Podfollow, Podcasts.com, Go Pod Me, Podcasters Directory, YouTube, IMDb, RSS Feed and other locations.
*******
Brand Messaging Strategist Loren Weisman is a messaging and optics strategist for The Fish Stewarding Group.
Fish Stewarding Group is stewarding strategic solutions and b
uilding authoritative businesses with authentically sound people.

Loren focuses on the authenticity, authority, psychology and perceptions of the message and story.
Weisman is also the host of the FSG brand messaging podcast; Wait What Really OK.
*******
Fish Stewarding Group
2073 FM 89 Buffalo Gap Rd.
Buffalo Gap, TX 79508, United States
Em: fishstewarding@gmail.com
Ph: 001-407-614-7446
*******
LW Website
FSG Website
LW Socials @lorenweisman
FSG Socials @fishstewarding
*******
Podcast Audible Page
IMDb for Podcast
*******
© 2021 Loren Weisman/Fish Stewarding Group. All Rights Reserved ® ℗
*******
Brand Messaging Podcast Listening Links:
Pandora
Amazon Music
iHeart
Apple Podcasts
Spotify
Google Podcasts
Stitcher
TuneIn
Radio Public
Castbox
Podcast Addict
Pocket Casts
Podbean
YouTube
RSS Feed
*******
Brand Messaging Podcast Music Credits 1:
Opening Theme Song
"Fully Licensed Wait What Really Ok Theme Song" by RKVC.
Copyright 2016 eMbloh Music (ASCAP)/ Cienzo Music (BMI).
Administered by Ass Backwards Music (ASCAP)/Bass Ackwards Music (BMI)
RKVC Website
*******
Brand Messaging Podcast Music Credits 2:
Closing Theme Song
"News and Information Podcast Percussion Outro" by Doug Hinrichs.
Copyright 2016 Dig And Be Dug Music (BMI).
Administered by Bass Ackwards Music (BMI).
Doug Hinrichs Website
*******
Messaging Podcast Season Recap. Wait What Really OK Season 6