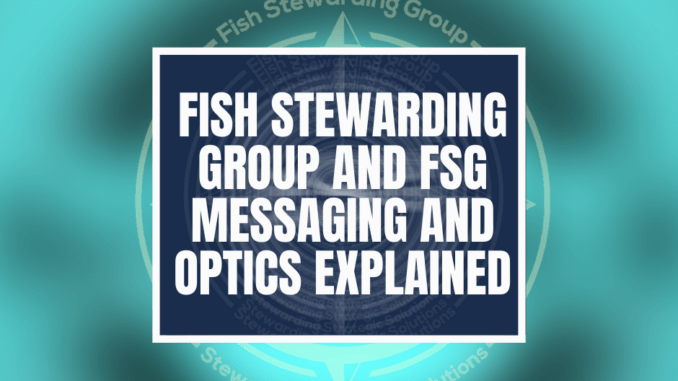 Fish Stewarding Group and FSG Messaging and Optics explained is the title of The Brand Messaging Podcast Wait What Really OK S7.E2.N115 hosted by Brand Messaging Strategist Loren Weisman. In this episode Loren discusses a series of the touch points and fundamentals of Fish Stewarding Group and its subsidiary, FSG Messaging and Optics.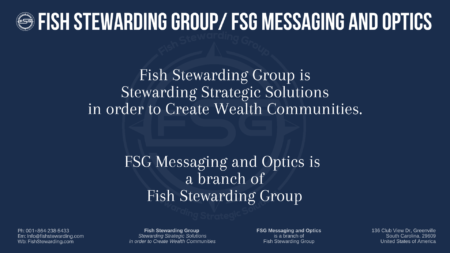 Fish Stewarding Group is stewarding strategic solutions in order to create wealth communities by educating, developing and transitioning businesses through strategic guidance and process architecture.
Fish Stewarding Group was created by Doug Fish and structured to have a series of branches to assist businesses, ventures and visionaries with a individualized approach that takes in to consideration many of the foundational factors that are often skipped over, missed or forgotten all together.
At the core of Fish Stewarding Group is the tagline: Stewarding Strategic Solutions in order to create wealth communities. The idea is that when a business is correctly structured from the ground up in benefits all involved morally, financially and professionally as it can continue on to steward and support the communities around it.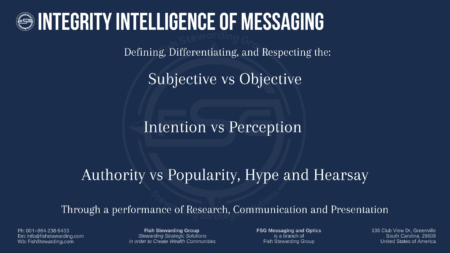 The branches of the FSG extend and expand across realty, nourishment, land development, finance, trusts, blockchain, cryptocurrencies, strategic partnerships, construction, leadership, property management and organizational strategy.
The first step though, with any business, venture or visionary is to bring them through the organizational strategy first to create the right foundation for all to be built on or corrected. The Organizational Strategy arm of the Fish Stewarding Group is called FSG Messaging and Optics.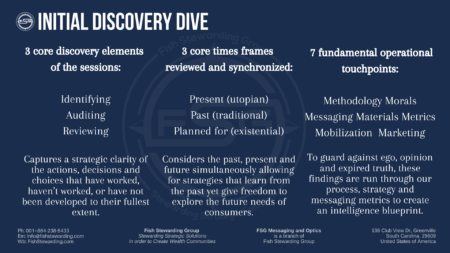 Every project that the Fish Stewarding Group touches…
First runs through a Discovery Deep Dive through FSG Messaging and Optics. This allows for:
A strategic clarity of the actions, decisions and choices that have worked, haven't worked, or have not been developed to their fullest extent.
An existential, traditional and utopian strategy review of the materials and motion to date which allows for FSG to create strategic plans that consider the past, present and future simultaneously.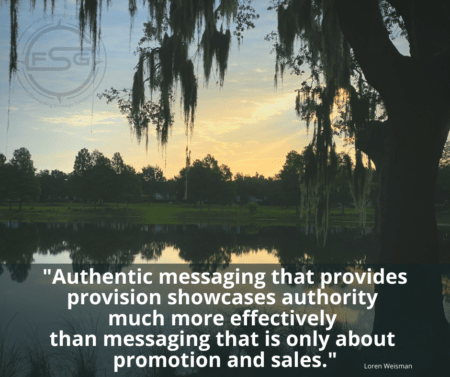 And the exploration and audit of the fundamental strategic and operational touch points to be run against the FSG MNO process architecture & messaging methods in order to create an initial action plan and blueprint for forward motion.
With this completed, the final deliverables and data of the discovery dive are delivered in a comprehensive report conducted over a series of stewarding phone or in person sessions, word documents, excel sheets, videos, images and audios for the clients keeping. Included are all findings, recommendations across the seven fundamental strategic and operational touch points as well as the advised mobilization, sequencing and direction we believe will be the correct path forward.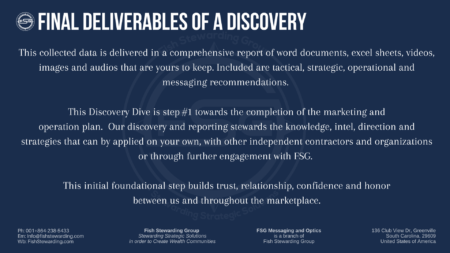 The FSG MNO discovery and reporting stewards the knowledge, intel, direction and strategies that you can apply on your own, with other independent contractors or organizations or with FSG. This initial discovery process and its key deliverable is a product to help your business over an organization just looking for more business from you.
This initial step allows you to prove yourself to us as this allows us to prove ourselves to you. In turn, honoring everyone.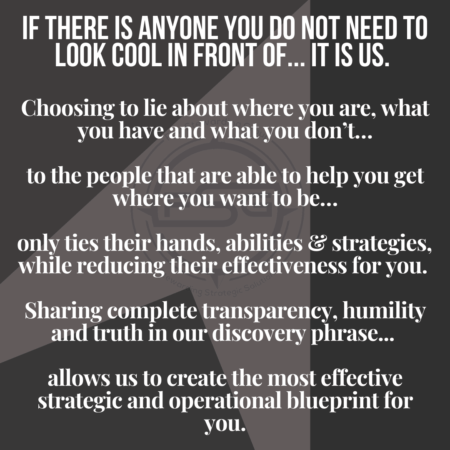 The 3 core tracks used by FSG Messaging and Optics are:
FSG Process Architecture
FSG Strategic Touch Points
And the FSG Messaging Methods.
Each sub element of these three core tracks includes…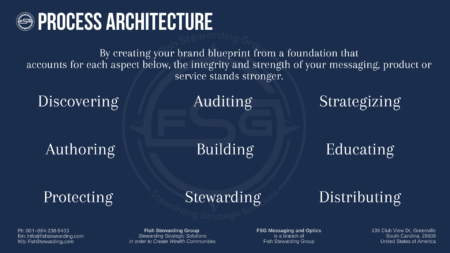 FSG Process Architecture: 
Discovering
Auditing
Authoring
Building
Educating
Protecting
Stewarding
Distributing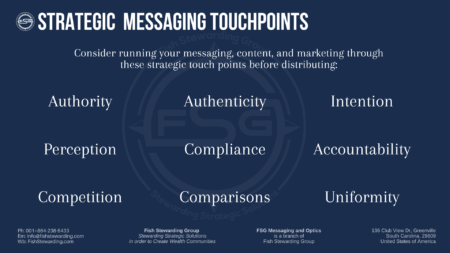 FSG Strategic Touch Points include;
Authority
Authenticity
Intention
Perception
Compliance
Accountability
Competition
Comparisons
Uniformity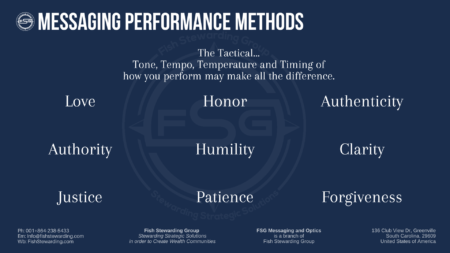 And the FSG Messaging Methods of…
Love
Honor
Authenticity
Authority
Humility
Clarity
Justice
Patience
Forgiveness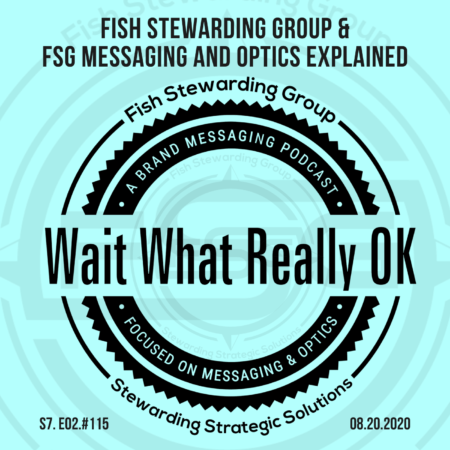 To learn more about the details of this process, email info@fishstewarding.com.
Season 7. Episode 2. Number 115 of the Wait What Really OK Podcast is called Fish Stewarding Group and FSG Messaging and Optics explained.
This Brand Messaging Podcast is available on Pandora, iHeart, Apple Podcasts, Spotify, Google Podcasts, Stitcher, TuneIn, Radio Public, Castbox, Podcast Addict, Pocket Casts, Podbean, Acast, Audio Burst, Plex, Anchor, Jio Saavn, Spreaker, Ivoox, Overcast, Blubrry, Bullhorn, Podbay, Podchaser, Gaana, Podhero, Himalaya, Deezer, Chartable, Player.Fm, Digital Podcast, Listen Notes, Goodpods, Podtail, Learn Out Loud, American Podcasts, Mixcloud, Soundcloud, Hubhopper, Podscribe.Ai, Audry, Podfollow, Podcasts.com, Go Pod Me, Podcasters Directory, YouTube, IMDb, RSS Feed and other locations.
*******
Brand Messaging Strategist Loren Weisman is a messaging and optics strategist for The Fish Stewarding Group.
Fish Stewarding Group is stewarding strategic solutions and b
uilding authoritative businesses with authentically sound people.

Loren focuses on the authenticity, authority, psychology and perceptions of the message and story.
Weisman is also the host of the FSG brand messaging podcast; Wait What Really OK.
*******
Fish Stewarding Group
2073 FM 89 Buffalo Gap Rd.
Buffalo Gap, TX 79508, United States
Em: fishstewarding@gmail.com
Ph: 001-407-614-7446
*******
LW Website
FSG Website
LW Socials @lorenweisman
FSG Socials @fishstewarding
*******
Podcast Audible Page
IMDb for Podcast
*******
© 2021 Loren Weisman/Fish Stewarding Group. All Rights Reserved ® ℗
*******
Brand Messaging Podcast Listening Links:
Pandora
Amazon Music
iHeart
Apple Podcasts
Radio.com
Spotify
Google Podcasts
Spreaker
Stitcher
TuneIn
Radio Public
Castbox
Podcast Addict
Podbean
*******
Brand Messaging Podcast Music Credits 1:
Opening Theme Song
"Fully Licensed Wait What Really Ok Theme Song" by RKVC.
Copyright 2016 eMbloh Music (ASCAP)/ Cienzo Music (BMI).
Administered by Ass Backwards Music (ASCAP)/Bass Ackwards Music (BMI)
RKVC Website
*******
Brand Messaging Podcast Music Credits 2:
Closing Theme Song
"News and Information Podcast Percussion Outro" by Doug Hinrichs.
Copyright 2016 Dig And Be Dug Music (BMI).
Administered by Bass Ackwards Music (BMI).
Doug Hinrichs Website
*******
Fish Stewarding Group and FSG Messaging and Optics explained

Fish Stewarding Group and FSG Messaging and Optics explained