Finding honorable coaches that coach with accountability. A blog and Podcast with Brand Messaging Strategist Loren Weisman.
Finding honorable coaches is a challenge these days.
All too often, an excited individual might be attracted to the hype, the promises and the flash that is presented in the promotion of a certain coach, but then find out all too late that the substance, the accountability and the experience is missing.
Consider taking the time to vet, double check and practice the due diligence before taking that step to pay someone that is not authority and does not have the ability to help you, your business or your vision.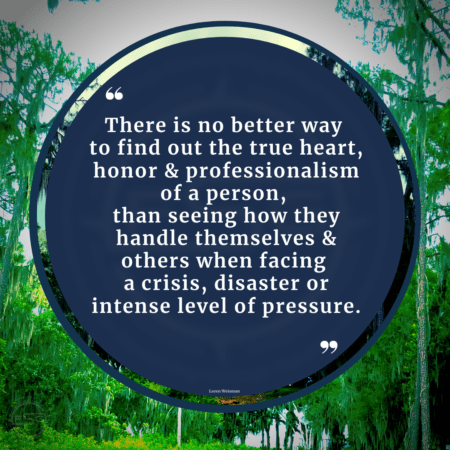 Discussed here are some of the elements to look for as well as what to look out and avoid.
To the legitimate and honorable coaches, keep in mind that many out there have had the bad experiences with coaches that were less than experienced. Showcase your authenticity, experience and authority in writing and in an agreement over just the marketing and hype that is used to sell. Share pieces online and off that highlight your knowledge over only marketing and promoting yourself.

Vetting
When you take the time and put in the effort to vet and double check, while at the same time, showcase your detail and professionalism, you set a better standard and a better foundation to work from. While also attracting the right type of client to coach.
Consider delivering a clear and defined statement of work, a strategic services agreement or consulting services agreement, an invoice and a non-disclosure agreement. This shows the honor and detail that protects the one you are coaching, just as you are protected as a coach.
And to those looking for a coach, have you found a series of coaches that take a very vague approach to coaching that leaves you feeling like you have gained nothing while they turn it around and blame you because you are not succeeding?

This is unfortunately all too common and is happening all too often in the coaching world.

Look for the details, to understand the responsibilities you have when being coached and what your coach is responsible for. This creates better understanding, better protection of all parties and better results as a while.
When everyone is on the same page, has a clear understanding of expectations and responsibilities, the best coaching outcomes can occur. Consider stepping away from the big promises, guarantees and claims if they are not backed up on paper and stepping toward those that can highlight and prove themselves ethically, professionally and authentically.
Lastly, look past the hype and seek the substance before subscribing to a coach and their direction. This is some of the best protection for you, your business or venture.


This episode is available here on Amazon Music and at any of the links below.
*******
Brand Messaging Strategist Loren Weisman is a contributor for FSG Messaging and Optics. Loren focuses on the authenticity, authority, optics, psychology and perceptions of a brand, persona or product. Loren is also the host of the brand messaging podcast; Wait What Really OK.
*******
Fish Stewarding Group
& FSG Messaging and Optics
(Orlando Division)
207 West Plant Street
Winter Garden, Florida, 34777-0991
Wb: https://fishstewarding.com/
Em: brandmessagingstrategist@gmail.com
Ph: 001-407-614-7446
*******
Loren Weisman Links:
Website
IMDb
YouTube
Twitter
Instagram
Amazon
LinkedIn
Send2Press
Audible
Google Business
*******
Brand Messaging Podcast Listening Links:
Pandora
Amazon Music
iHeart
Apple Podcasts
Spotify
Radio.Com
Google Podcasts
Stitcher
TuneIn
Radio Public
Podcast Addict
Spreaker
Podbean
*******
Brand Messaging Podcast Social Links:
Podcast Info Page
Twitter Page
Facebook Page
Instagram Page
Google Business Page
Podcast IMDb Page
*******
Brand Messaging Podcast Music Credits 1:
Opening Theme Song
"Fully Licensed Wait What Really Ok Theme Song" by RKVC.
Copyright 2016 eMbloh Music (ASCAP)/ Cienzo Music (BMI).
Administered by Ass Backwards Music (ASCAP)/Bass Ackwards Music (BMI)
RKVC Website
*******
Brand Messaging Podcast Music Credits 2:
Closing Theme Song
"News and Information Podcast Percussion Outro" by Doug Hinrichs.
Copyright 2016 Dig And Be Dug Music (BMI).
Administered by Bass Ackwards Music (BMI).
Doug Hinrichs Website
*******
Finding honorable coaches that coach with accountability