FSG Messaging and Optics Brand Messaging Strategist Introduction video from Brand Messaging Strategist Loren Weisman sharing an overview of the standards in communication with clients and connections.

FSG Messaging and Optics Brand Messaging Strategist Intro Video
A stewarding strategic introductions video of sorts discussing the expectations we have as well as what you can expect from us whether we are working together on a smaller or larger project.
This is a communication outline of how we work with clients.
Our core focus is on the communication that allows every project to be completed to the best of everyones abilities. With the right communication, connections, humility and authenticity, we can execute a project that takes n all considerations and lays a sounds and solid foundation.
With the protection, comprehension and clarity in place through our primary documentation, it allows us to support and guide your vision in the direction that is found to be right for you.
This FSG Messaging and Optics video below may help some understand our foundations. We hope you find it engaging. And even if we are not the right ft for you, consider working with those that define their work in words but also on paper to protect your vision, your wallet and your wellbeing.
"No one can create your brand for you. No one can create your story for you. To be authentically created, this has to be with you."
Our Methodology
The FSG Messaging and Optics methodology is reinforced with the documentation to protect each client, create a clear mutual understand of expectations and why we do what we do the way we do it.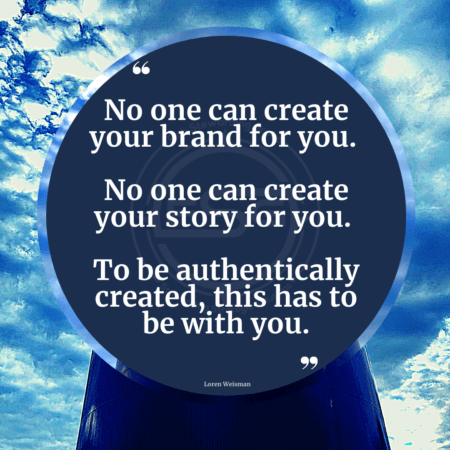 Regardless of working with us for a limited number of sessions, an initial discovery deep dive or a full brand discovery to brand development project, we want to start, stay and finish on the same page every time.
For more information, please consider contacting us for a discussion to see if our strategies, style and approach is right for you.
*******
Brand Messaging Strategist Loren Weisman is a messaging and optics strategist for The Fish Stewarding Group.
Fish Stewarding Group is stewarding strategic solutions and building authoritative businesses with authentically sound people. Loren focuses on the authenticity, authority, psychology and perceptions of the message and story.
Weisman is also the host of the FSG brand messaging podcast; Wait What Really OK.
*******
Fish Stewarding Group
2073 FM 89 Buffalo Gap Rd.
Buffalo Gap, TX 79508, United States
Em: fishstewarding@gmail.com
Ph: 001-407-614-7446
*******
LW Website
FSG Website
LW Socials @lorenweisman
FSG Socials @fishstewarding
*******
Podcast Audible Page
IMDb for Podcast
*******
© 2021 Loren Weisman/Fish Stewarding Group. All Rights Reserved ® ℗
*******
FSG Messaging and Optics Brand Messaging Strategist Intro