Dont vote for me… and there are no like, share and follow requests from me. A Brand Messaging Strategist Loren Weisman, last minute non campaign ask blog.

Dont Vote For Me, like or comment!
To put it simply, I do not want your vote on Tuesday, or any other day..
I do not want your like.
You do not have to comment.
You don't need to share
….and you do not have to,…
upvote, subscribe, double-click, double tap, knick knack paddy whack, give the dog a bone…
and whatever else people are asking for these days with my podcast, my videos, my blogs, my quotes, my content, my pages or my social media.

I do not want your vote, like or comment. It is about you!
The content I put up is for you from me and not for funneling you anywhere.
If you read a post and like it, then I am happy and I don't need you to press the like button.
If you feel like following me on Twitter but could care less about Facebook, then by all means, please connect with me where it best works for you and not anywhere else.
No brand force trauma or pressure here!

Dont vote for me. I would rather you enjoy my content and not worry or expect to be asked to do something about it.
I am not playing a numbers game with anyone.
I create the content for those that enjoy seeing, reading, watching or listening to it.
I create content to give people a sense of my authenticity and authority.
I create and share content to give clients, potential clients and even those that do not work with me… a sense and a series of examples of where I come from, what I believe and how I approach messaging and brand messaging as a whole… this also includes how we approach stewarding strategic solutions at Fish Stewarding Group and FSG Messaging and Optics.
I create content as a proof of concept and not in a template prototype format for those I work with to showcase how brand discovery, brand messaging strategy and process architecture can work.
Everything I share, teach and promote, I have done myself and or tested across a series of different metrics, situations, budgets and teams.
Lastly, I create content to help those that might not be able to afford to work with me but can benefit from the information that is provided.
But I do not create content to try to get more friends, followers, likes, views, shares and other false numbers.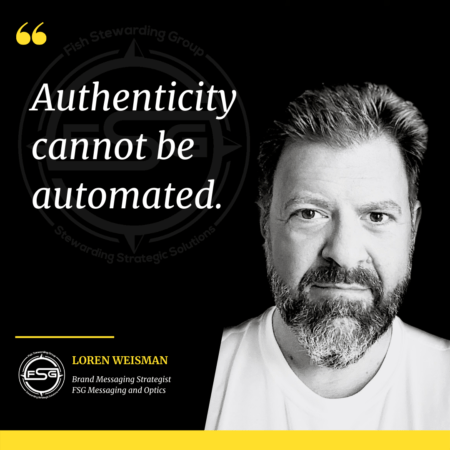 If you are more worried about the numbers I have online over the messaging I share and the content I put up… and if that becomes the deciding factor in connecting with me learning from me or working with me…then most likely, we wouldn't work together well.

If you want to like, share, comment or take any action, it is your choice… But please know, it is not expected.
And, I do not expect you to watch it all, listen to it all, read it all or engage with it all.
I hope some things you might find helpful, other maybe, interesting… other things you might already know… and some stuff, you might not even agree with.
Either way…
I hope you enjoy this type of engagement and I hope you enjoy the some of content that connects most with you. 
All the best, 
Loren.

*******
Brand Messaging Strategist Loren Weisman is a contributor for FSG Messaging and Optics.
Loren focuses on the authenticity, authority, optics, psychology and perceptions of a brand, persona or product.
Loren is also the host of the brand messaging podcast; Wait What Really OK.
*******


LW Website


FSG Website


LW IMDb




LinkedIn




YouTube


Instagram
Facebook
Pinterest


Send2Press




Google Business


*******
Wait What Really OK Podcast


Podcast IMDb




Pandora


iHeartRadio
Apple Podcasts
Amazon Music
Spotify
Radio.com
Spreaker
Google Podcasts
*******
Brand Messaging Videos Series IMDb
Instead of that…Consider This! Video Shorts IMDb
*******


Fish Stewarding Group


& FSG Messaging and Optics
(Orlando Division)
207 W. Plant Street
Winter Garden, FL, 34777-0991
Em: brandmessagingstrategist@gmail.com
Ph: 001-407-614-7446
© 2020 Loren Weisman. © ® ℗
*******
Dont vote for me and there are no like, share and follow requests from me.