Sharing accountability expectations with potential clients covers the idea of identifying the accountability of all parties working together.

Sharing accountability expectations
Instead of the only delivering the hype, promises and guarantees to a potential client, consider standing out by highlighting the expectations and accountability that a potential client is responsible for.
All too often, many that are selling their services make very dangerous promises and guarantees that are dependent on the client following through. And when things go bad, many of those people selling state it on the back side.
Video
Consider moving away from the popularity phrases, the sales hype and the arrogant claims that can bait anyone.
Consider shifting to a tone that will invite those from the start that understand they have to be held accountable for the work they must do, just as you are held accountable for what you provide.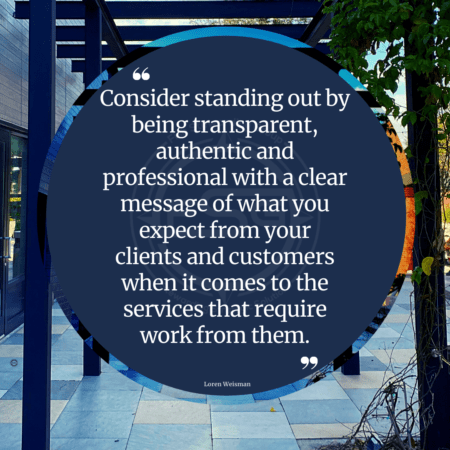 And it can make for a great tone in standing out and allowing potential clients and customers to see your authenticity and transparency early on. This in turn, could attract a better client that can benefit from working with you because they are prepared from the start to work with you.
Avoid the false pretenses or funneling people in with the "look squirrel" methods, the tone of your pitch, of your engagement and of your communication has a better chance to come off as its own melody in telling your story, over sounding the exact same as so many others as it gets lost in the harmony or unison of popular hype with limited substance and limited details.
Consider standing out by being transparent, authentic and professional with a clear message of what you expect from your clients and customers when it comes to the services that require work from them.

*
Loren Weisman is a messaging and optics strategist for The Fish Stewarding Group.
Weisman is also the host of the FSG messaging and optics podcast; Wait What Really OK.
*
Fish Stewarding Group
FSG Development
FSG Messaging and Optics
*
1351 Scott Street
Tye, Texas, 79563,
USA
*
LW Website
FSG Website
*
© 2022 Loren Weisman/Fish Stewarding Group. All Rights Reserved ® ℗
*
Sharing accountability expectations with potential clients.
Sharing accountability expectations with potential clients.