Reviewing the responsibility and liability issues of your website and your presence online.  An FSG Messaging and Optics Blog from Brand Messaging Strategist Loren Weisman.

Reviewing the responsibility and liability issues of your website.
There is a world of uncharted territory, responsibility, and liability that comes with putting up a website. These responsibilities can double and triple when you are selling items from your website as well as using mailing lists and other online tools.
Most assume they can tap up a simple copyright notice and then some will go a little further and add a simple boilerplate terms and conditions page that was cut and pasted from somewhere else.
This isn't enough and all too often, if you are launching something that is going to get a lot of traffic and a lot of eyes, it will also get those looking for the holes and the issues to be able to go after you.
Consider standing out by being transparent, authentic and professional with a clear message of what you expect from your clients and customers when it comes to the services that require work from them.
Outlining…
Do you have your limitation of liability in place?
What is the acceptable use of your site?
How do your deliveries and returns work?
What about your intellectual property?
Laying out this information with clarity and detail can keep many issues at bay and protect you and your business.
In stewarding strategic solutions from the conversations to the content both online and off in advance, you are offered a better chance to not run into the chancy and iffy situations that can arise if you are not protected.

Outlining the responsibility and liability issues of your website.
On the bottom of my website, I have the following eight notices to clarify the details of my website as well as protecting myself from issues that can arise.
Take the time to have a read through them and consider taking the right steps to protect yourself, your brand, your website and your business from those out there looking to do no good.
Consider being safe and protecting what you have built from others out there that may be trying to cause problems.
The next step also includes the additional and more detailed ADA compliance of your website, as well as addressing the latest updates in for WCAG (Web Content Accessibility Guidelines). That is for another blog and another time.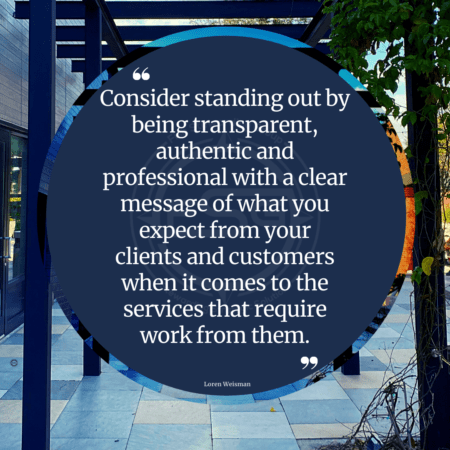 *******
Brand Messaging Strategist Loren Weisman is a messaging and optics strategist for The Fish Stewarding Group.
Fish Stewarding Group is stewarding strategic solutions and b
uilding authoritative businesses with authentically sound people.
Loren focuses on the authenticity, authority, psychology and perceptions of the message and story.
Weisman is also the host of the FSG brand messaging podcast; Wait What Really OK.
*******
Fish Stewarding Group
2073 FM 89 Buffalo Gap Rd.
Buffalo Gap, TX 79508, United States
Em: fishstewarding@gmail.com
Ph: 001-407-614-7446
*******

LW Website
FSG Website
LW Socials @lorenweisman
FSG Socials @fishstewarding
*******

Podcast Audible Page
IMDb for Podcast
*******

© 2021 Loren Weisman/Fish Stewarding Group. All Rights Reserved ® ℗
*******
Reviewing the responsibility and liability issues online.
Reviewing the responsibility and liability issues online.