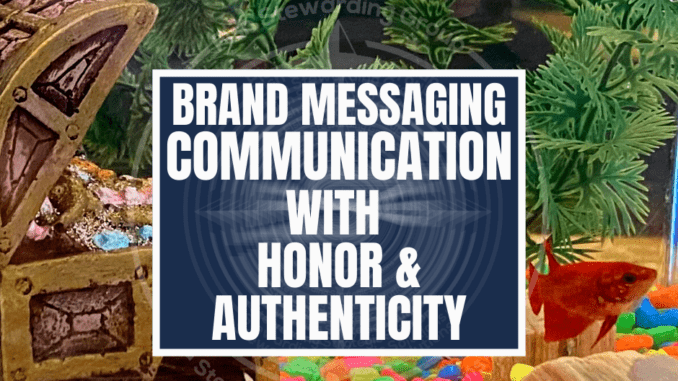 Brand messaging communication with honor and authenticity.

Brand messaging communication with honor and authenticity.
This is not by any means a rule book when it comes to communication. It is a guide and an approach that I like to have in conversation with those we are working with or are considering working with us. In our experience, these touch points allow for the best understanding, respect and growth to occur. The same expectations we ask for below are the same you can expect with me, Fish Stewarding Group and FSG Messaging and Optics.
---
"A straightforward answer to a straightforward question will move you that much more forward in this world, that much faster."
---
In someways, this approach can be summed up in the above quote with the idea that communication centered around transparency, humility, honor, accountability as well as the ability to hear the other side and not make or rush to judgements when disputes arise… can allow for the best paths and best growth possible.
---
Preferred Brand Messaging Communication tactics, considerations and views for those we work with or are considering working with us.
Please differentiate and clarify the opinions from facts.
Consider that your intention may not translate to perception.
Listen instead of preparing a response and not hearing.
Please stay away from insulting.
Avoid sarcasm.
Refrain from passive aggressive communication tactics.
If something feels off, explain it immediately as well as why.
If something feels insulting, share why it feels insulting instead of stating that someone is insulting you.
Dial back the claims, the hype, the ego in conversations.
Stand with conviction but also a preparation to shift if the facts prove different.
Communicate with and in transparency.
 Research for the present and applicable truth for your conversation or debate
over sharing half truths, expired truths or non relatable truths.
Please do not assume, ask.
Don't let it sit or simmer. Bring it up and lets get it resolved
Make it a goal to resolve a dispute, over winning one.
Communicate with Love, Humility, Authority, Authenticity and Integrity
Do not nod your head or act like you understand if you don't.
If you do not received a response to an email, a call or a text in 24 hours, (on a weekday, please resend. Do not wait or assume we are busy.
Leave out the Fear, Ego, Hearsay, Anxiety and Dishonesty.
If you can't figure something out, as soon as it is causing confusion, fill us in and don't wait till the next meeting or call. Let's nip issues in the bud.
And lastly…

If you can't make a payment…
If you can't make a meeting…
If you can't make a deadline…
If you can't make sense of something…
If circumstances change…

Please inform us so we know as soon as possible and so we can figure out the best strategy to apply to keep momentum for the project.
Going Silent, ducking, hiding or avoiding does not honor you, us or the process. As things happen, keep us in the loop.When communication and respect are at their best, we will do all we can to make any issue, problem or delay have the least impact.
---
With the above brand messaging communication style, I find that it can make the most out of the creative, the positive and the strategic times as much as it helps the times of stress, dispute and disagreement.
---
"A straightforward answer to a straightforward question will move you that much more forward in this world, that much faster."
---
And in the same theme of communication,
I joined Omar Zenhom on The $100 MBA Show as a guest teacher today.
I spent some time sharing some approaches on
how to personalize the navigation of your business strategy
and a lot of it is rooted in communication.
---
*******
Brand Messaging Strategist Loren Weisman is a messaging and optics strategist for The Fish Stewarding Group.
Fish Stewarding Group is stewarding strategic solutions and b
uilding authoritative businesses with authentically sound people.
Loren focuses on the authenticity, authority, psychology and perceptions of the message and story.
Weisman is also the host of the FSG brand messaging podcast; Wait What Really OK.
*******
Fish Stewarding Group
2073 FM 89 Buffalo Gap Rd.
Buffalo Gap, TX 79508, United States
Em: fishstewarding@gmail.com
Ph: 001-407-614-7446
*******

LW Website
FSG Website
LW Socials @lorenweisman
FSG Socials @fishstewarding
*******

Podcast Audible Page
IMDb for Podcast
*******

© 2021 Loren Weisman/Fish Stewarding Group. All Rights Reserved ® ℗
*******

Before you send money, vet that charity and the people asking for it

Brand messaging communication with honor and authenticity for me and FSG.
---