Before you send money, vet that charity and their fundraising practices from Brand Messaging and Optics Strategist Loren Weisman. A Fish Stewarding Group and FSG Messaging and Optics blog.
Before you send money, vet that charity first.
From Hurricanes to lost jobs to everything in between for this year and every year past, there are a great deal of solid charities and programs out there that are about helping. 
Unfortunately, there are also a lot of people that exploit these events for their own gain.
This can set people up for sending their money and thinking they are helping, where they end up being scammed or giving to an individual or individuals that are not putting that money to the promoted use.
Vetting, double checking and practicing due diligence with the charities you want to give to, can help to make sure what you gives, goes where you want it to go.
"There is no better way to find out the true heart, honor and professionalism of a person, than seeing how they handle themselves and others when facing a crisis, disaster or intense level of pressure."
The above quote goes for both those that give and receive…
Find out before you send money if they are what they claim.
Some simple sites to check include:
https://guidestar.org and https://charitynavigator.org
Next,
you can visit the Better Business Bureau's http://give.org to find out some reviews and information on a number of charities out there. 
Snoop around some too. 
See if they have information on a board, look for social media sites and if it is a new charity after some kind of event, look to see if it is tied to an established non profit that has been around for a while.
Making the donation on a secure site also helps and be very careful about crowdfunding sites as many problems have been reported after major events about people taking the money… and running.
Vet the charities for fools just like you should vet the marketing fools to avoid being fooled.  And, Apply your heart to instruction, to the vetting, to the due diligence and the double checking to ensure you mark the best path for you.
And lastly, there will be overhead, and as you vet, realize it is very hard to make every penny go where you want it.
As you vet, it is not about finding a charity that gives 100%. They are few and far between. Any charity will need operational flow and they do report it. I prefer charities that have operational costs of at most 35% and down. Those that have higher budgets seem a little suspect to me.
In the end, 
Look before you leap and give. Make sure that you are helping the charity or the people you want to help. Take those extra moments to ensure your donation is going where it is supposed to go.
LW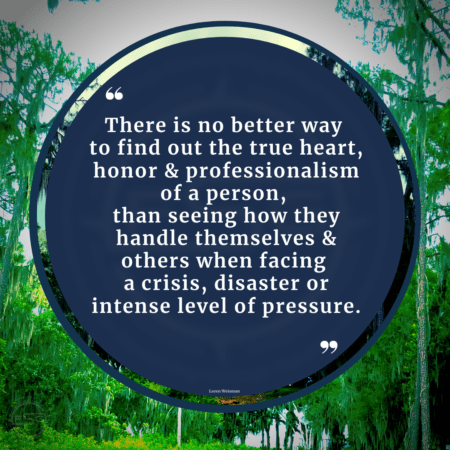 *
Loren Weisman is a messaging and optics strategist for The Fish Stewarding Group.
Weisman is also the host of the FSG messaging and optics podcast; Wait What Really OK.
*
Fish Stewarding Group
FSG Development
FSG Messaging and Optics
*
649 Scott Street
Suite #101A
Tye, Texas, 79563-2225,
USA
*
LW Website
FSG Website
*
© 2022 Loren Weisman/Fish Stewarding Group. All Rights Reserved ® ℗
*
Before you send money, vet that charity and the people asking for it
Before you send money, vet that charity and the people asking for it