Branding quotes for messaging and for the motion of your story to consider applying to your strategy and the communication of your brand from Loren Weisman.

Branding quotes for messaging and for the motion of your story.
Below are a series of quotes from Brand Messaging Strategist Loren Weisman on brand messaging and the authenticity of your story, your authority as well as some aspects to consider in your communications.
Take the time to focus on what you authored to showcase your authority over just bragging about being an author to build your popularity and engagement.
By keeping your intended messaging personal, humble and professional when it comes to the perception elements, it will not make your message clear to everyone, but you will have a better chance to engage that many more with a greater understanding. All too often, many of us are focused on our intention but we miss the mark when it comes to the perception of that messaging.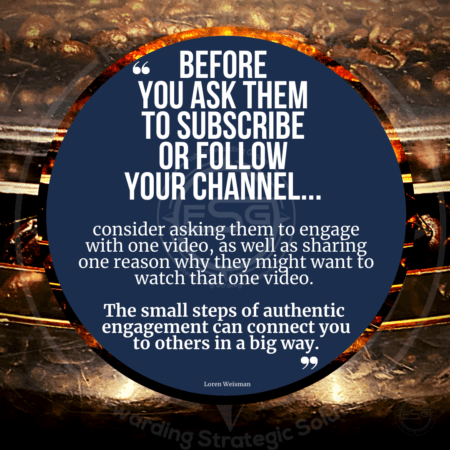 No one can create your brand for you. No one can create your story for you. To be authentically created, this has to be with you.
The details from a clear strategic services agreement ensure for the most sound, solid and honorable working relationship and between all parties.
Through my messaging, ideas, beliefs, faith, experiences and present conclusions… I look to share content that represents my integrity, authenticity and authority in a stewarding approach while asking for nothing in return.
Anyone can publish a book. Anyone can be an author. But, not everyone has the authority, authenticity or expertise.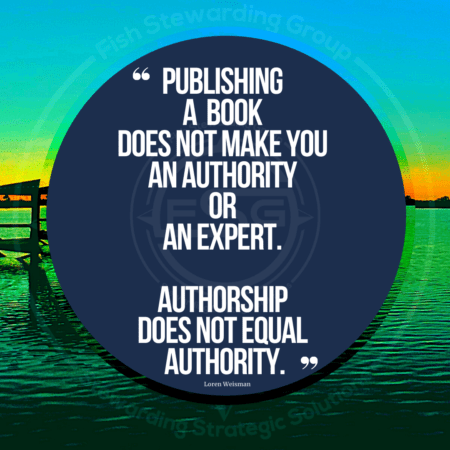 Consider standing out by being transparent, authentic and professional with a clear message of what you expect from your clients and customers when it comes to the services that require work from them.
Methodically messaging in a harmony of honor, humility, authenticity and authority may create more resonation for your story to be heard by that many more connections.
Connecting with a professional on a networking site will not always make them a professional connection for you.
Consider practicing some solid vetting and due diligence with those that spend most of their time spotlighting the number of people they are connected to instead of highlighting their authority, authenticity and expertise.
Motivation without direction, information and education may make you feel good, but it will do limited good for the work that is required to build.
Motivation without animation can be a core factor in the early extermination of a vision or venture.
Be careful who you pay, who you trust, who you listen to and who you read. Are they guiding you and teaching you how to build something or are they only trying to build you up?
Are you network messaging or network marketing? In these times, it seems people may be more enticed by an engaging message over the usual marketing pitches.
Some more branding quotes for messaging
Lead with the how. So many scream only about what they can do for you. Consider standing out by sharing the authenticity, authority and intelligence of how you can do it with them.
Invite by explaining about you and your store. Market by educating about what you have. Message by sharing why it can be an advantage to buy from you… And consider staying in an authentic, sympathetic and relatable tone.
Stop settling for, subscribing to and becoming enticed by stupid. I believe most are smarter than that. Yet many allow themselves to continually get sucked into it.
Change the narrative of networking by creating conversations to engage authentically over just racing to a finish line to collect names and trying to build up as much popularity to be seen by as many people as possible.
Instead of trying to shake 20 hands, get 30 business cards and add 40 people to your LinkedIn, consider taking the time with authentic introductions and conversations that are grounded in connection over racing to see how quickly they can find a new conversion or sale.
Shortcuts on the foundation of your discovery, compliance, brand, website, uniformity, competitive, comparative as well as your core messaging are a dangerous and often, the most expensive route to go.
When everyone is on the same page, has a clear understanding of expectations and responsibilities, the best coaching outcomes can occur. Consider stepping away from the big promises, guarantees and claims if they are not backed up on paper and stepping toward those that can highlight and prove themselves ethically, professionally and authentically.
When you run across the operational touch points, the strategic touch points, the core time frames, and the messaging messages simultaneously; It allows for a sound foundation to be heard above the unison and harmonies of so many others saying the exact same thing at the same time. Discovery and blueprinting before building… Messaging before marketing… And engaging before selling.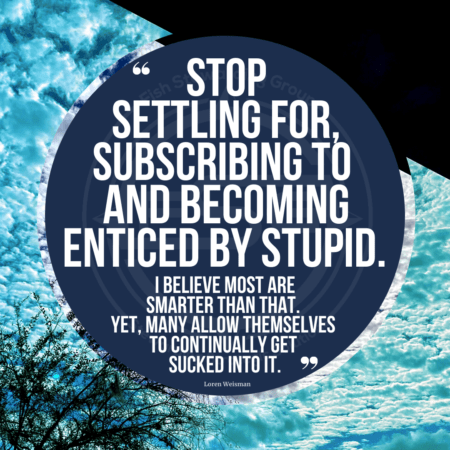 More Branding Quotes for messaging are available at:
Weisman Quotes on IMDb
GoodReads
Quotes.Net
OwnQuotes
QuotesSayings.net
Quotes on Instagram
Quotes on Pinterest
*******
Brand Messaging Strategist Loren Weisman is a contributor for FSG Messaging and Optics.
Loren focuses on the authenticity, authority, optics, psychology and perceptions of a brand, persona or product.
Loren is also the host of the brand messaging podcast; Wait What Really OK.
*******


LW Website


FSG Website


LW IMDb




LinkedIn




YouTube


Instagram
Facebook
Pinterest


Send2Press




Google Business


*******
Wait What Really OK Podcast


Podcast IMDb




Pandora


iHeartRadio
Apple Podcasts
Amazon Music
Spotify
Radio.com
Spreaker
Google Podcasts
*******
Brand Messaging Videos Series IMDb
Instead of that…Consider This! Video Shorts IMDb
*******


Fish Stewarding Group


& FSG Messaging and Optics
(Orlando Division)
207 W. Plant Street
Winter Garden, FL, 34777-0991
Em: brandmessagingstrategist@gmail.com
Ph: 001-407-614-7446
© 2020 Loren Weisman. © ® ℗
*******
Branding quotes for messaging and for the motion of your story.