Authentic opinions amplified and intelligence to consider is the topic and touch point for s8. E7. n130. of the Wait What Really OK brand messaging podcast.
Authentic opinions Amplified and intelligence to consider.
From the fixed focus groups to the ability to vote as much and as often as you like, the authentic voice and authentic opinion has trouble shining through. From artificial intelligence in the real world delivering data that can be artificially altered to the opinions of a paid influencer, we are missing out on authentic opinions from real people to understand the authority in what people are feeling, over the popularity of what people are being told people are feeling. So, that can be an issue.
Some of the issues are in communication.
We see individuals sharing op-eds. One sided views of opinions that are placed in to editorial format instead of learning the Op Agg story… the aggregation of authentic opinions collected for the authority data that it could provide.
The Amplified Authentic Opinions Podcast episode is available on Apple Podcasts as well as any of the sites in the graphic below.
Art, like music, and food is opinion. It is subjective and while there are popular opinions, a great deal of that popularity has been falsely bought. So in the end, it can be presented as intelligence that isn't true. So, when we consider honoring opinions authentically and take them into account instead of only counting for popularity through an organized aggregator of authentic opinion, the data and intelligence can be more beneficial for everyone.
"Social media is not toxic. Social media sites are not toxic. It might just be that you've allowed the toxic people you follow on social media to make it toxic for you.

There is no rule, no law or no condition on any of these sites that says you must continue to follow or stay connected with someone you don't want to on social media. Unfollow, disconnect and block if need be and as often as you like."
It shows up across social media across every topic and every theme.
If we can take the time and put in the efforts to amplify the authentic opinions and apply those results and intelligence across the board, everyone from the consumer to the companies behind a song, an artist, a product or a service, we might have a better chance of understanding what choices to make based on better intelligence, so again, a little more authenticity.
If we can also step back from blame and take the time to vet what we see, what we hear and what we choose to believe, while at the same time differentiating opinions from facts and the subjective vs objective differences, it can be better online and off.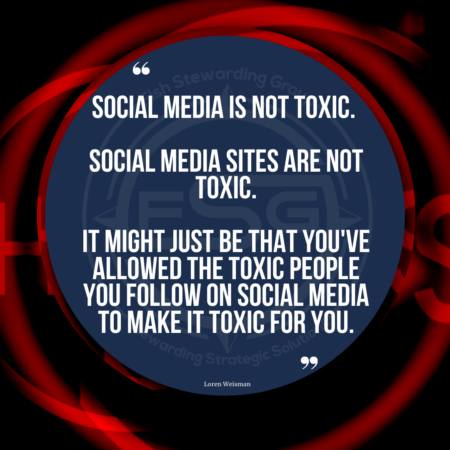 Authentic opinions amplified and beyond.
So,  it's not taking away awards and accolades. Even though awards are subjective, we can still frame them as such and allow every vote to count. Still, If you can vote many times for some content or award, where is the authenticity, honor and rewards in those results?
Many of the authentic messaging strategies can start when we have the amplified authentic opinions to base off of. So, from music and breaking artists through to breaking hits for those artists to the break throughs of new products, amplified authentic opinions could create the intelligence needed to respect the consumer regardless of their following count and allow for the companies to make wiser investments with smarter marketing budgets in the end. And glad to see guys out there like Neil Collins, who are pulling this approach together.
Let's consider bringing authenticity back and amplify it a notch or three.
So, Authentic opinions amplified and intelligence to consider is the topic and touch point for s8. E7. n130. of the Wait What Really OK brand messaging podcast.
This brand messaging podcast is also available on all the links below as well as on most sites, stations and apps where you may like to listen to podcasts.
*******
The Brand Messaging Podcast Wait What Really OK is a methodical, comical and informational podcast sharing authentic brand messaging, optics approaches & strategies for honorable authority driven businesses.
*******
Brand Messaging Strategist Loren Weisman is a contributor for FSG Messaging and Optics. Loren focuses on the authenticity, authority, optics, psychology and perceptions of a brand, persona as well as product. And in conclusion, Loren is also the host of the brand messaging podcast; Wait What Really OK.
*******
© 2021 Loren Weisman. All Rights Reserved ® ℗
*******
LW Website
FSG Website
LinkedIn
YouTube
Instagram
Facebook
IMDb
Pinterest
Send2Press
Google Business
*******
Brand Messaging Podcast Links:
WWROK Website
Podcast IMDb
Audible Page
Pandora
iHeartRadio
Apple Podcasts
Amazon Music
Spotify
Radio.com
Spreaker
Radio Public
Stitcher
Google Podcasts
*******
Brand Messaging Videos Series IMDb
Instead of that…Consider This! Video Shorts IMDb
*******
Opening Theme Song Credit
What Really Ok Theme Song" by RKVC.
Copyright 2016 eMbloh Music (ASCAP)/ Cienzo Music (BMI).
Administered by Ass Backwards Music (ASCAP)/Bass Ackwards Music (BMI)
RKVC Website
*******
And the closing Theme Song Credit:
"News and Information Podcast Percussion Outro" by Doug Hinrichs.
Copyright 2016 Dig And Be Dug Music (BMI).
Administered by Bass Ackwards Music (BMI).
Doug Hinrichs Website
*******
Fish Stewarding Group
& FSG Messaging and Optics
(Orlando Division)
207 W. Plant Street
Winter Garden, FL, 34777-0991
Em: brandmessagingstrategist@gmail.com
Ph: 001-407-614-7446
*******
Authentic opinions amplified and intelligence to consider.