Amplified cognitive ability from the PEMF experience. A video and article about my Bemer experience over the past months.

Amplified cognitive ability from my PEMF experience.
In this video below, I am sharing about the Amplified cognitive ability and enhancement I noticed over a two month period. It is one of my amplified authentic opinions on the Bemer and the experience as a whole.
There's an aspect about the Bemer for me that's really been for lack of a better word amplified in the mental, the strategic, the creative and just the endurance intelligence of a given day.
I've noticed that from doing the Bemer early in the morning and then doing it right before I go to bed… that it is really working for me from the creative to the strategic. It is another reason I find that the Pulsed Electromagnetic Field Therapy  works for me. pulsed-
There's a greater period of not burning out.
I can look toward the end of the day those lulls and not just the caffeine lull, but sometimes just mentally and intellectually it there's a dull there's a lull.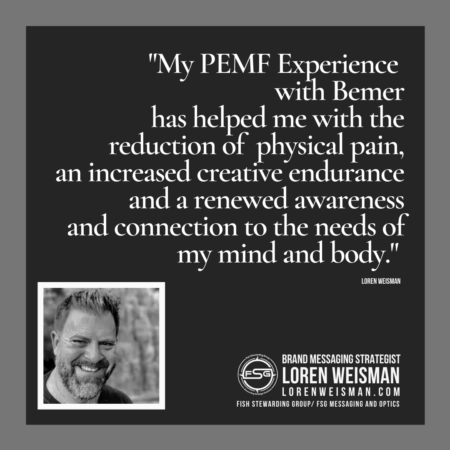 There was kind of a numbness that has gone away.
There's been an exhaustion and that exhaustion has been pushed out exponentially for me.
I can head into the end of the day and not try to power through with caffeine not try to hit a a soda or an extra coffee and at the end on those days when you burn out and you're just flying on fumes.
Then, it's hard to kind of shut down after work. Now it doesn't feel like it's hard to shut down.
It's this stability and endurance that I've noticed and it came from nowhere else outside of the Bemer.
It's the Bemer and doing it in the morning and doing it in the evening where creative strategic and for lack of a better word intelligence endurance has occurred for me.
I find that yes, there are aspects and then other videos, I'll share about what I feel from muscle pain from old injuries and this and that that is all true.
But, one thing I'm not seeing as much online when it refers to the Bemer is a thought process improvement that's helped me to execute for a longer endurance and for the top of the day to be as strong as the backside of the day and beyond.
"My PEMF Experience with Bemer has helped me with the reduction of physical pain, an increased creative endurance and a renewed awareness and connection to the needs of my mind and body."
For additional intelligence or if you interested in having a conversation about this with an authority, the guy I talk to is named Tim Daniels of Q International LLC.
He is an independent Bemer Distributor
His email is timdanielshc@gmail.com.