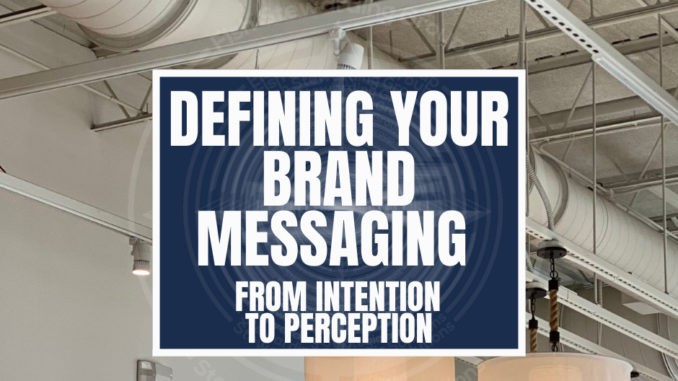 Defining your brand messaging from intention to perception and in-between. A Fish Stewarding Group Blog from brand messaging strategist Loren Weisman.

Defining your brand messaging from intention to perception…
Many that are in marketing want to jump through the messaging and foundation phase very quickly.
There is a commonly accelerated pace put to knocking out a bio, a tagline and some descriptions as quick as possible and some simple content. So, in turn, then some of the less than reputable these marketing types move to the marketing phase of spending and making more money from you with less of a focus on amplifying your message or your brand.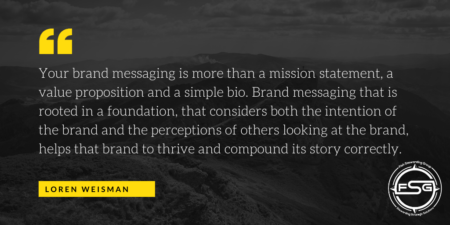 An unstable brand and a lack of stable brand messaging may end up costing more and in turn allow some of these marketing and promotion companies you hire to make more off you with less results.
Not all, but many that work this way will present a brand and a message that hits your intention or they may ask the questions that are much more focused on your view of what you have and what you want to have seen.
While, a better approach may be to look at the…
perceptions,
comparatives,
connotations,
competitive,
overused,
misused,
misunderstood as well as the existing optimization elements of that message..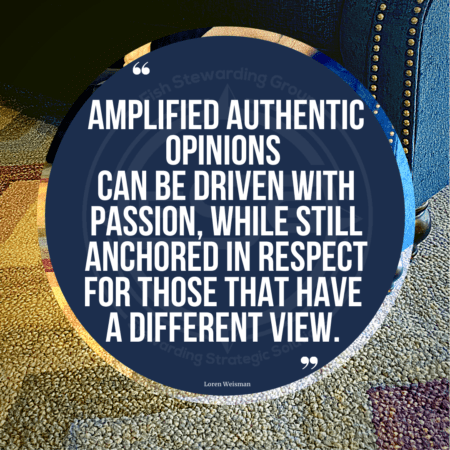 With these above pieces not dialed in and a brand and message that is rushed to marketing…
the costs can increase in having the message received the way it is desired to be heard.
The trick of hand is sometimes is that you are given a bio that makes…
you happy from the information you provided.
"The foundation of your messaging is framed by your words, your story and your actions.
Consider making them strong, true, authentic and yours."

Choices made in fear to fix the moment can poison the future.
This information that lacks the humility, the discovery and the intel of a series of different touch points may leave you with words you like, but possibly words that are not getting across and not being heard by your potential audience.
And, there are not a lot of social media marketing pros out there that are going to argue with your intention because they want your work.
Many will move to grow larger marketing campaigns as they focus you on to the
likes,
shares,
follows,
comments
and the numbers that often times do not count and may not covert.
By defining your brand messaging with the authenticity and authority of the story you tell on the front side of the brand, to the array of content that you can apply to connect, educate and market yourself with over the long run, you may grow that brand messaging blueprint with a solid foundation that can compound for you as it reinforces your authenticity, authority and presence online and off.
Choices made in fear to fix the moment can poison the future.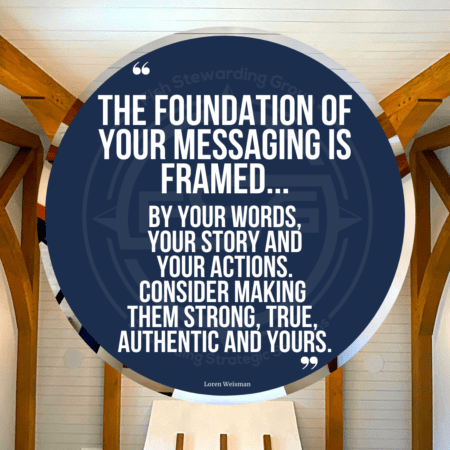 This is why it is much more than someone writing a bio or a LinkedIn profile for you.
It is not just filling out a simple questionnaire where you provided all the answers to work from.
It is why defining your brand messaging blueprint in the most effective way may start with a discovery and audit that looks at the array of all the initial information that come from you.
Then those words, phrases, concepts and ideas are researched against your intentions, other peoples perceptions and a range of touch points to find the right foundation for you.
In the root of understanding your intention while respecting the perceptions that may be out there, you may be able to hone in the right messaging blueprint for you that helps you share yourself, your product or service with a melody that is heard over the harmony and unison of so many others saying the exact same thing. 
This is one of the first steps taken and an excerpt from the list of what we look at in discovery and the auditing from each brand… Then how it is tested, searched, checked and run across a series of touch points that allow the intelligence and strategy to co-create the right content and right messaging directions for each client.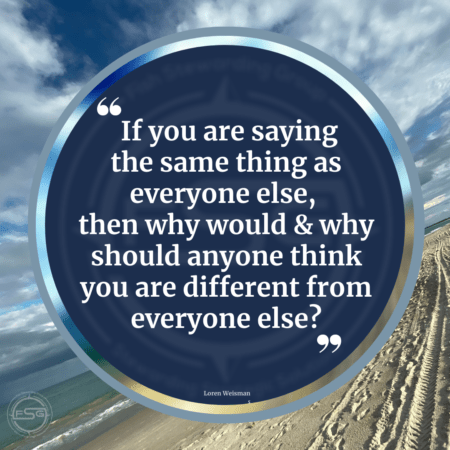 Defining your brand messaging discovery list in stage 1.
Discovery of….
Why they chose the direction or path they are currently.
Location and physical to online desired reach.
Why they feel it is time to change that direction or path.
Who, What, When, Where, Why and How of current content and names.
Authority and authenticity elements.
Intention vs perception messaging and optics.
Subjective vs objective messaging and optics.
Ego to humility messaging and optics.
Hearsay to history to hype messaging and optics.
Other comparative and competitive businesses and business models.
Fear to love communication styles.
Uniformity and cacophony elements.
Complacent pieces or disregarding elements.
Initial direct and indirect influences to the business.
Direct and indirect comparisons to the business.
Business boundaries and limits.
Openess to opportunity, change and new directions.
Mission, values, voice, story, wants, needs, and desires.
Negative connotations, crisis management issues, reputation problems.
Descriptors including personal, business, relating and non relating.
Best type of client and customer attributes.
Worst type of client and customer attributes.
The exit strategy, partnerships, ownership or investment concepts.
With all these ingredients and colors on the palette, it can make it more streamlined to create the right blueprint, with the personalized information to assist in defining the brand messaging to be as effective and authentic as possible.
If you would like to talk about a brand auditing session or discuss a brand discovery, feel free to reach out through the contact information below.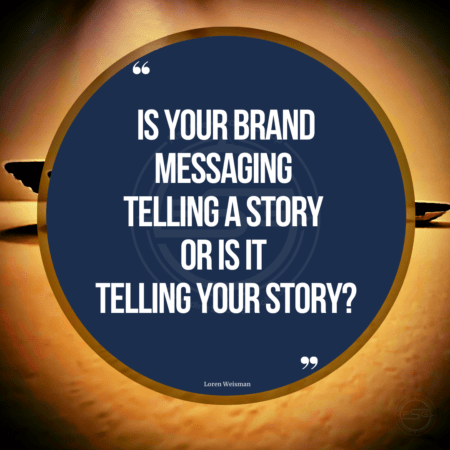 *******
Brand Messaging Strategist Loren Weisman is a messaging and optics strategist for The Fish Stewarding Group.
Fish Stewarding Group is stewarding strategic solutions and building authoritative businesses with authentically sound people. Loren focuses on the authenticity, authority, psychology and perceptions of the message and story.
Weisman is also the host of the FSG brand messaging podcast; Wait What Really OK.
*******
Fish Stewarding Group
2073 FM 89 Buffalo Gap Rd.
Buffalo Gap, TX 79508, United States
Em: fishstewarding@gmail.com
Ph: 001-407-614-7446
*******
LW Website
FSG Website
LW Socials @lorenweisman
FSG Socials @fishstewarding
*******
Podcast Audible Page
IMDb for Podcast
*******
© 2021 Loren Weisman/Fish Stewarding Group. All Rights Reserved ® ℗
*******
Defining your brand messaging from intention to perception