Keynote Speaker Authority and Authenticity. Can they only speak? An FSG Brand Messaging and Optics Strategist Loren Weisman Blog.
Is that Keynote Speaker only a talker?
That speaker takes the stage and they are working to pump people up, entertain, excite and make them think. Those are all wonderful elements, but after they leave the stage and begin to pitch services or products, do they have the knowledge and authority that goes beyond the stage?
It confuses some. There is an assumption that if they are on that stage, whether as a keynote, a guest speaker or a panelist,  they must know what they are talking about right?
Not always.
"Consider choosing the "here is how" over the "I know you can" types. Consider connecting with those that have the authority and ability to show, educate and help you create what you want, instead of those that only focus on vague directions, hearsay instructions, empty motivation and scripted hype."
Keynote Speaker Authenticity?
Being a great speaker does not make someone a great consultant, an authority or for that matter, even truly authentic. They might just be a great speaker and in many cases, this shows to be more true, more often. And just because they have taken the stage doesn't mean they were paid to be up there.
There are a lot of conferences and events where they will bring in the core speakers and often times pay for those speakers by charging a great deal for other spots to be filled. These events put a focus on the major speakers, which will have the serious draw but will charge and accept speakers with less authority that can pay for their spots.
So you might end up getting excited by someone that can deliver a great talk, but may have nothing else to back it up with. Worse yet, these speakers exploit the stage time to sell services where they do not have the authority they claim. The hype problem shows its ugly head, once again.
"It feels like we have more coaches on the sidelines than we have players on the field."
Can they only speak?
To avoid this problem, enjoy the keynote speakers and guest speakers you hear, but consider digging in deeper to see if they really have the ability to help you. Just because someone can excite you from the stage, it does not mean they can do the work off stage.
Look to and look for authority and authenticity off the stage.
Vet them. Make sure they have as great a track record with individual clients as they do with massive crowds.
This extra time you take to make sure you are connecting, working and paying the right people can help you avoid the pitfalls that many have experienced after jumping to hire someone that is all inspiration and presentation but lacking in the information and the ability to do the work needed.
Look in to their authenticity and authority of a keynote over the speaking resume, all the TedX talks they have given or all the conferences that they have spoken at.
Many, not all, can buy their way into these events and use the template courses and marketing materials to entice, inspire and excite with the hopes it will make you buy in to them.
Do the due diligence on them.
Make sure they have content that showcases their knowledge and not just marketing and selling materials. Look for the endurance of authenticity and authority over the hype of the performance, the promises and the call to actions from the stage.
Enjoy the talk and if you feel you want to see if there is more to do with this person, take the time to see if this person has more to offer before getting sucked into the hype. A genuine authority will understand if you want to take some time to vet.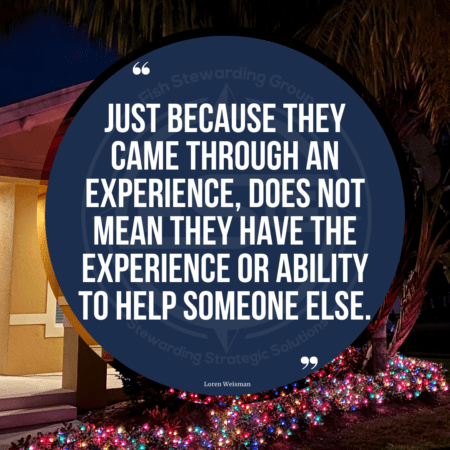 And this goes for me as well.
I invite you to look at my speaking pages and links if you are considering me for a speaking event.
But, please vet me and make sure I am the right fit for you. Here are a couple links about my speaking.
Authentic Messaging Strategies Talk Title Page 
Vet it all, check it all and be sure to look into what these speakers are telling you to look at. There are some outstanding speakers with great authenticity and authority. However, a large majority are only looking for you to buy a book, a course, a product or a service.
Consider connecting with those that are sharing intelligence over just trying to lead you into a sales funnel with short unsubstantial hype.
*
Loren Weisman is a messaging and optics strategist for The Fish Stewarding Group.
Weisman is also the host of the FSG brand messaging podcast; Wait What Really OK.
*
Fish Stewarding Group
649 Scott Street
Suite #101A
Tye, Texas, 79563-2225,
USA
*
LW Website
FSG Website
Podcast Audible Page
*
© 2022 Loren Weisman/Fish Stewarding Group. All Rights Reserved ® ℗
*
Keynote Speaker Authenticity and Authority. Can they only speak?