Forget the money show me the morals and the authenticity is a quote and blog from Messaging and Optics Strategist Loren Weisman from Fish Stewarding Group.
Forget the money show me the morals?
Would love to see or learn about a businesses practices, abilities, intelligence and ethics…
over how many followers, likes, views, comments or awards they have.
All the above are easily purchased and for sale everywhere.
Instead of using a false sense of hype and popularity to attract people, why not focus a little more on what you do, how you do it and why some one would benefit from connecting with you.
Bear the weight of your words. Bring morals, ethics and honor back.
It might not attract everybody, but it might just attract the right people for you.
Same goes for the dancing hype… on TikTok and Instagram...
Are you dancing like a puppet for false popularity or designing and distributing authentic content for true authority?
Just because its trending, popular or cool, doesn't make it something that you should shift your entire content tone and trajection toward. Especially if it is not you.
Show me the morals
Consider sharing more than the number of
views,
likes,
comments,
and awards.
All can be bought.
True Authority, morals and #intelligence can not.
I'd rather learn about what you do and how you do it with authenticity and authority, over reading about false hype used to claim you're a true expert…
Instead of the whole show me the money, or show me the popularity, how about show me the morals…
In your
messaging,
authenticity,
Intelligence,
and authority.
Audio Read / Audio Description of this page for American Disabilities Act (ADA Compliance) from the Messaging and Optics Page to Pod Podcast: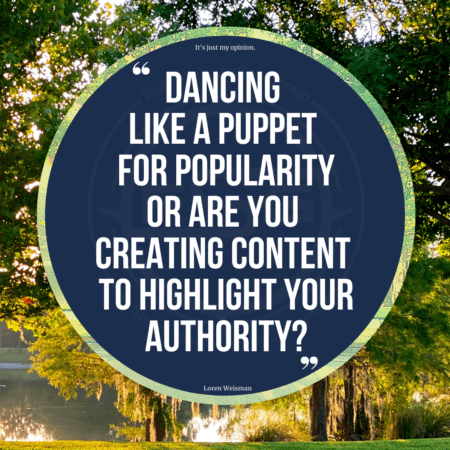 *
Loren Weisman is a messaging and optics strategist for The Fish Stewarding Group.
Weisman is also the host of the FSG brand messaging podcast; Wait What Really OK.
*
Fish Stewarding Group
649 Scott Street
Suite #101A
Tye, Texas, 79563-2225,
USA
*
LW Website
FSG Website
Podcast Audible Page
*
© 2022 Loren Weisman/Fish Stewarding Group. All Rights Reserved ® ℗
*
Forget the money show me the morals and the authenticity.