Curiously Curated Creations, Creatures, Tales and Messaging is a blog and podcast featuring Kristina Lucia. Kristina discusses with Loren about her journey so far and where it is heading.

Curiously Curated Creations and Kristina Lucia
Curiously Curated Creations from Kristina Lucia includes a children's book series as well as a number of handcrafted crocheted animals and an array of art and other products. Kristina discusses with Loren about her journey so far and where it is heading as well as how she is taking to heart the concept of authoring the brand of your book and the stability and security of her messaging and products in advance of release.
Brand messaging strategist Loren Weisman talks with Kristina Lucia about her brand, her direction and the involvement of the Fish Stewarding Group and the results that came from a brand discovery and audit.
Staying true to an authentic approach, Kristina is strategizing connection and engagement over hype and hoopla in her messaging and her reach.
For all things messaging from childrens books to crocheted animals and beyond, Loren Weisman shares "Consider exchanging the claims, promises and guarantees for authentic, humble and engaging content." The result can be much more inviting and connecting."
"Quality Mom Time, Grandmas Recipe, and a Memory to Last is the title of the first book from the curiously curated creations childrens book series."
---
The Curiously Curated Creations Children's Book Series Titles
All titles and tag lines for each of the 15 books in the first Curiously Curated Tales series.
Quality mom time, Grandma's recipe, and a memory to last.
Bella helps to cook a tasty and timeless soup recipe from Grandma with Mom.
A dash of creativity, a splash of imagination and love.
Eddie tinkers with tools in his workshop to create a heartfelt gift for Lucy.
Little room and little crib to a big room and big bed.
Ezra says goodbye to his little boy bed and hello to his new big boy room.
Feeling nervous and shy in a new class with new classmates.
Lucy grows her confidence and connects with other at her first ballet class.
Three wheels to four wheels and then 4 wheels to 2 wheels.
Bella feels brave as she learns to ride a bike and remove her training wheels.
Circles, squares, rectangles and preparing for preschool.
Ezra starts to learn about shapes and begins to draw them on his own.
Sentences from words and words from letters as we learn.
Eddie practices reading one letter and one word at a time.
Double loop, swoop, and a single pull for a knot to last.
Ezra finds patience while learning how to tie his shoes so they stay tied.
Numbers to counting then adding to subtracting make up math.
Lucy studies math as she is introduced to addition and subtraction.
Quality friend time sharing stories and a chocolate cake.
Lucy experiences teamwork while baking a cake in the kitchen with friends.
Planting a good friend garden and the rewards of growth.
Eddie cares for a garden by digging, planting and watering it with friends.
One summer, two friends, and countless handwritten cards.
Lucy stays connected with Clara over the summer while they are apart.
A sense of love and belonging in a new school adventure.
Ezra feels scares in an unfamiliar place on his first day of preschool.
A cherished decoration and a memory to nourish a soul.
Eddie builds a sled one step and one piece at a time for Christmas
Confidence, style and a smile creates a memorable look.
Bella discovers inner beauty through the Valentine's Day parade.
---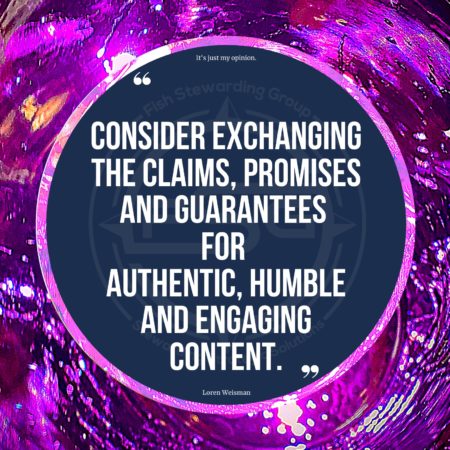 ---
More about Kristina Lucia and her curiously curated creations at https://kristinaluciateddybears.com/
Curiously Curated Creations, Creatures, Tales and Messaging…
These are some of the topics covered in this discussion with Kristina Lucia on S.09 E.01 n.134 of the Brand Messaging Podcast, Wait What Really OK. We also open up about release times and the roll out from the first book and on.
This brand messaging podcast is available on most sites, stations and apps where you may like to listen to podcasts…
And directly available at each of the links below in the signature. 
*******
Brand Messaging Strategist Loren Weisman is a messaging and optics strategist for The Fish Stewarding Group.
Fish Stewarding Group is stewarding strategic solutions and building authoritative businesses with authentically sound people. Loren focuses on the authenticity, authority, psychology and perceptions of the message and story.
Weisman is also the host of the FSG brand messaging podcast; Wait What Really OK.
*******
Fish Stewarding Group
2073 FM 89 Buffalo Gap Rd.
Buffalo Gap, TX 79508, United States
Em: fishstewarding@gmail.com
Ph: 001-407-614-7446
*******
LW Website
FSG Website
LW Socials @lorenweisman
FSG Socials @fishstewarding
*******
Podcast Audible Page
IMDb for Podcast
*******
© 2021 Loren Weisman/Fish Stewarding Group. All Rights Reserved ® ℗
*******
Brand Messaging Podcast Links:
WWROK Website
Audible Page
Podcast IMDb
Pandora
iHeartRadio
Apple Podcasts
Amazon Music
Spotify
Audacy
Spreaker
Radio Public
Stitcher
Google Podcast
Podbean
Deezer
*******
Opening Theme Song Credit
What Really Ok Theme Song" by RKVC.
Copyright 2016 eMbloh Music (ASCAP)/ Cienzo Music (BMI).
Administered by Ass Backwards Music (ASCAP)/Bass Ackwards Music (BMI)
RKVC Website
*******
And the closing Theme Song Credit:
"News and Information Podcast Percussion Outro" by Doug Hinrichs.
Copyright 2016 Dig And Be Dug Music (BMI).
Administered by Bass Ackwards Music (BMI).
Doug Hinrichs Website
*******
Curiously Curated Creations, Creatures, Tales and Messaging.