FSG Messaging and Optics Podcast Wait What Really OK is Part Radio Show, Part Podcast, Part Strategy & Part Comic Relief that takes apart the misconceptions, misunderstandings and mistakes of online branding, messaging and optics by delivering up to date, easy to understand information that can be applied to your messaging, regardless of your business.
It looks at many different angles and the different pieces of telling your story and how to have that story heard.
Wait What Really OK is A Methodical, Comical and Informational Podcast covering authentic messaging and optics approaches and strategies for the businesses of today.
Host, Loren Weisman is a Messaging and Optics Strategist with a focus on the authenticity, authority, optics, psychology and perceptions of a brand, persona or product for The Fish Stewarding Group.
Loren's path was not always a sure thing.  Destined to find his own way, declaring he would become a drummer was not his parent's profession of choice.  With over 700 album credits across major and indie labels, Loren's steadfastness and dedication proved his ability to play and perform. 
Yet Loren was convinced there was more.  It was this avenue of music that opened many additional doors in the music and television producing industries as Loren's eye was able to see and then translate opportunities into money saving processes in a dog-eat-dog world of record labels as well as for television production studios.  As a music producer and TV producer, Loren is accomplished with numerous TV production credits for ABC, NBC, FOX, CBS, TLC and more.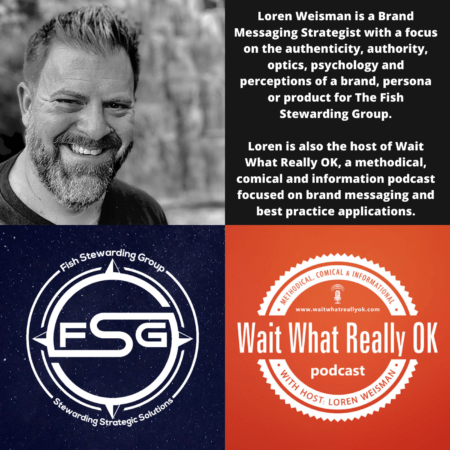 The FSG Messaging and Optics Podcast's only ask…
I am not asking  and will never ask you to like, share, follow, download, comment or review Wait What Really OK…. Ever!
I ask that you try it and see if enjoy it.
I ask that if you do not like it, turn it off.
I ask that if you do enjoy it or find the information helpful, that I am not asking for anything else.
(If you want to like it, or share, or whatever,
that's up to you, but I won't ask it of you.)
If you want to send criticisms, corrections, or questions, by all means, feel free.
This show is for those that want to enjoy it, learn from it and choose to engage with it. I am not asking listeners to be marketers.
Just so you know.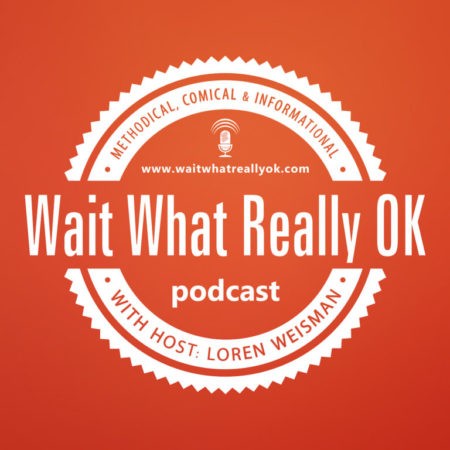 The Wait What Really OK FSG Messaging and Optics Podcast is available on:

Wait What Really OK Podcast Players
and other locations….
Where do you prefer to listen or find your podcasts?
I would like to know and if Wait What Really OK isn't there,
I will see what I can do to get it there.
*
Loren Weisman is a messaging and optics strategist for The Fish Stewarding Group, FSG Messaging and Optics (FSG MNO), FSG Development (FSG DEV), FSG Equipping and Learning Centers (FSG ELC), FSG Realty as well as FSG Africa. FSG is bearing the weight of messaging, strategy, finance and development by coming along side. Weisman is also the host of the FSG messaging and optics podcast; Wait What Really OK.
*
Fish Stewarding Group
649 Scott Street
Suite #101A
Tye, Texas, 79563-2225,
USA
*
LW Website
FSG Website
Podcast Audible Page
*
© 2022 Loren Weisman/Fish Stewarding Group. All Rights Reserved ® ℗
FSG Messaging and Optics Podcast Listening Links:
Pandora
Amazon Music
iHeart
Apple Podcasts
Spotify
Google Podcasts
Stitcher
TuneIn
Radio Public
Castbox
*