Apple Podcast is an archives tag for lorenweisman.com and the brand messaging strategist website from Loren Weisman and the podcast as well.
Apple Podcast
It can help you discover free audio stories that entertain, inform, and inspire. Explore shows you'll love from entertainment and comedy to news and sports.
Apple Podcast Features:
• Stream over 750,000 shows with over 20 million episodes.
• Subscribe to any show for free. Get notified when new episodes are available.
• Save your cellular data and listen anywhere. Simply download the episode to your Library.
• Continue listening on all your Apple devices and see your latest episodes in Listen Now.
• Find the most interesting shows picked by our editors, and the most popular shows in Browse.
• Explore updated categories, and collections curated by our editors.
The Brand Messaging Podcast Wait What Really OK is available on Apple Podcasts
Host, Loren Weisman is a Brand Messaging Strategist with a focus on the authenticity, authority, optics, psychology and perceptions of a brand, persona or product for The Fish Stewarding Group.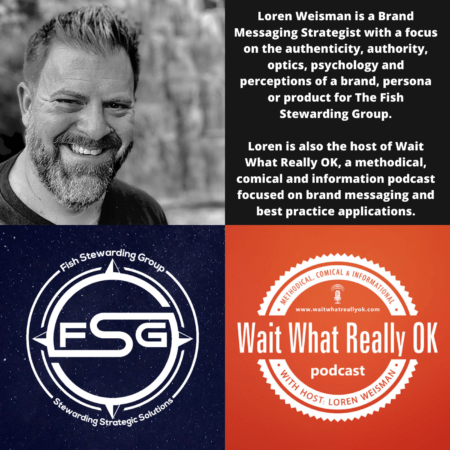 This Brand Messaging Podcast's only ask.
I am not asking  and will never ask you to like, share, follow, download, comment or review Wait What Really OK…. Ever!
I ask that you try it and see if enjoy it.
I ask that if you do not like it, turn it off.
I ask that if you do enjoy it or find the information helpful, that I am not asking for anything else.
(If you want to like it, or share, or whatever,
that's up to you, but I won't ask it of you.)
If you want to send criticisms, corrections, or questions, by all means, feel free.
This show is for those that want to enjoy it, learn from it and choose to engage with it. I am not asking listeners to be marketers.
Just so you know.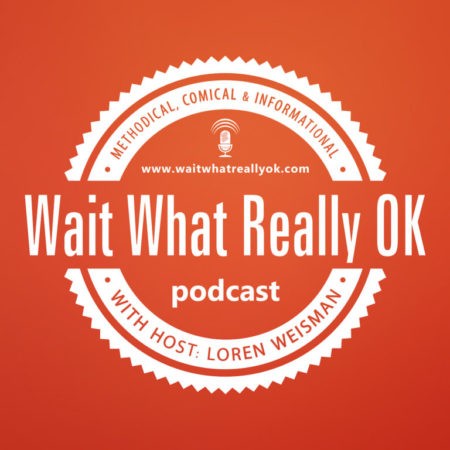 The Wait What Really OK Brand Messaging Podcast is available on Apple Podcasts as well as :
on Pandora, iHeart, Apple Podcasts, Spotify, Pandora, Amazon Music, Google Podcasts, Stitcher, TuneIn, Radio Public, Castbox, Podcast Addict, Pocket Casts, Podbean, Acast, Audio Burst, Plex, Anchor, Jio Saavn, Spreaker, Ivoox, Overcast, Blubrry, Bullhorn, Podbay, Podchaser, Gaana, Podhero, Himalaya, Deezer, Chartable, Player.Fm, Digital Podcast, Listen Notes, Goodpods, Podtail, Learn Out Loud, American Podcasts, Mixcloud, Soundcloud, Hubhopper, Podscribe.Ai, Audry, Podfollow, Podcasts.com, Go Pod Me, Podcasters Directory, YouTube, IMDb, RSS Feed and other locations.
*******
Brand Messaging Strategist Loren Weisman is a messaging and optics strategist for The Fish Stewarding Group.
Fish Stewarding Group is stewarding strategic solutions and b
uilding authoritative businesses with authentically sound people.
Loren focuses on the authenticity, authority, psychology and perceptions of the message and story.
Weisman is also the host of the FSG brand messaging podcast; Wait What Really OK.
*******
Fish Stewarding Group
2073 FM 89 Buffalo Gap Rd.
Buffalo Gap, TX 79508, United States
Em: fishstewarding@gmail.com
Ph: 001-407-614-7446
*******

LW Website
FSG Website
LW Socials @lorenweisman
FSG Socials @fishstewarding
*******

Podcast Audible Page
IMDb for Podcast
*******

© 2021 Loren Weisman/Fish Stewarding Group. All Rights Reserved ® ℗
*******