Are you dancing like a puppet is an archives tag for lorenweisman.com and part of an FSG messaging and optics quote from Loren Weisman.

Are you dancing like a puppet
Just because its trending, popular or cool, doesn't make it something that you should shift your entire content tone and trajection toward. Especially if it is not you.
Regardless of the trends in the moment, consider keeping your long range personal and authentic tone working. Playing with a trend for fun can be fun, but shifting your entire plan for every trend, may only reveal a lack of depth, authenticity and authority in you and your messaging.
Are you dancing like a puppet for false popularity or designing and distributing authentic content for true authority?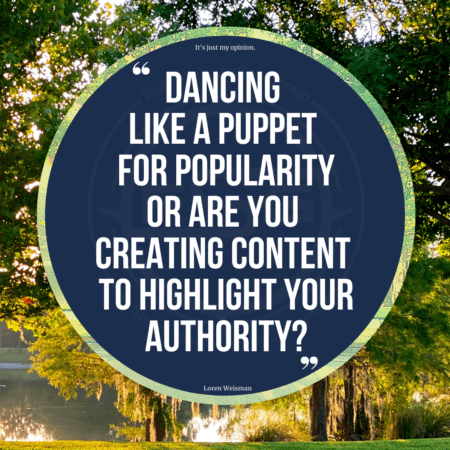 *
Loren Weisman is a messaging and optics strategist for The Fish Stewarding Group. Fish Stewarding Group is stewarding strategic solutions by only building authoritative businesses with authentically sound people. The FSG branches include FSG Messaging and Optics, FSG Development, FSG Living Homes, FSG Living Buildings, FSG Living Panels, FSG Living Roads, FSG Realty, Gardens of Tye as well as FSG Africa. FSG is bearing the weight of messaging, strategy, finance and development by coming along side. Weisman is also the host of the FSG messaging and optics podcast; Wait What Really OK.
*
Fish Stewarding Group
1351 Scott Street
Tye, Texas, 79563,
USA
*
LW Website
FSG Website
Podcast Audible Page
*
© 2023 Loren Weisman/Fish Stewarding Group. All Rights Reserved ® ℗