Brand messaging martini is an archives tag from lorenweisman.com and includes the recipe for a martini created for brand messaging strategist Loren Weisman.
Brand messaging martini? Yup.
The brand messaging martini or "The Weisman" was created by Shane Sahr. Shane says he created this cocktail "in light of Loren himself."
Shane goes on to share… "I went to work with a little help from Joe Zara, my bar manager. We collaborated and came up with a cocktail that best describes his persona and character. This is a martini that has spice, mixed with inventive flavors in a classy presentation.
The drink…
3 ounces Dry Gin.
1/2 ounce Mazama Pepper infused vodka.
3 to 4 dashes of Caper berry juice.
Garnished with a caper berry.
To make this martini…
First, grab a mixing glass and fill it with ice.
Second, add the gin, Mazama pepper infused vodka and caper berry juice.
Stir with a cocktail spoon about 16 to 18 times.
Lastly, strain and pour into a martini glass adding the caper berry as a garnish.
There you have it "The Weisman or The Brand Messaging Martini" Salud!"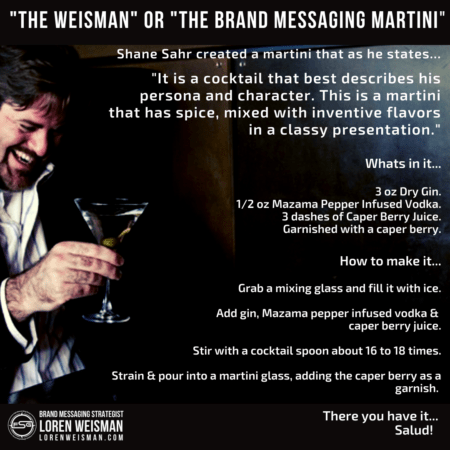 *******
Brand Messaging Strategist Loren Weisman is a contributor for FSG Messaging and Optics. Loren focuses on the authenticity, authority, optics, psychology and perceptions of a brand, persona or product. Loren is also the host of the brand messaging podcast; Wait What Really OK.
*******
Fish Stewarding Group
& FSG Messaging and Optics
(Orlando Division)
207 West Plant Street
Winter Garden, Florida, 34777-0991
Wb: https://fishstewarding.com/
Em: brandmessagingstrategist@gmail.com
Ph: 001-407-614-7446
*******
Loren Weisman Links:
Website
IMDb
YouTube
Twitter
Instagram
Amazon
LinkedIn
Send2Press
Audible
Google Business
*******
Brand Messaging Podcast Listening Links:
Pandora
Amazon Music
iHeart
Apple Podcasts
Spotify
Google Podcasts
Stitcher
TuneIn
Radio Public
Castbox
*******