Connecting with a professional is an archives tag for lorenweisman.com and the lead off of a brand messaging quotes quote from Loren Weisman.
Connecting with a professional
Those that brag about the number of people they are connected to…
Those that highlight people that are following them…
That spend more time posting about their popularity over sharing content to deliver a sense of authority…
all can be types to watch out for. Just because you connected to someone online, doesn't mean you know them or they know you. Keep that in mind when some out there try to sell you on their network over the knowledge worth.
Connecting with a professional on a networking site will not always make them a professional connection for you.
Consider practicing some solid vetting and due diligence with those that spend most of their time spotlighting the number of people they are connected to instead of highlighting their authority, authenticity and expertise.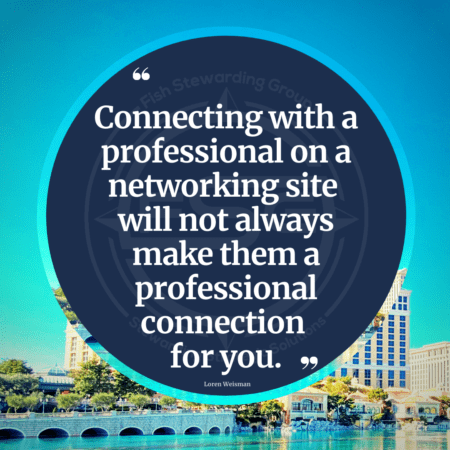 *******
Brand Messaging Strategist Loren Weisman is a messaging and optics strategist for The Fish Stewarding Group.
Fish Stewarding Group is stewarding strategic solutions and b
uilding authoritative businesses with authentically sound people.
Loren focuses on the authenticity, authority, psychology and perceptions of the message and story.
Weisman is also the host of the FSG brand messaging podcast; Wait What Really OK.
*******
Fish Stewarding Group
2073 FM 89 Buffalo Gap Rd.
Buffalo Gap, TX 79508, United States
Em: fishstewarding@gmail.com
Ph: 001-407-614-7446
*******

LW Website
FSG Website
LW Socials @lorenweisman
FSG Socials @fishstewarding
*******

Podcast Audible Page
IMDb for Podcast
*******

© 2021 Loren Weisman/Fish Stewarding Group. All Rights Reserved ® ℗
*******