Creating authentic messaging is an archives tag for lorenweisman.com and part of a brand messaging quote from brand messaging speaker Loren Weisman.
Creating authentic messaging
When we take to an authentic direction, the results help to make our voices stand out. Standing true to our heart, our story and the elements that tie to the truth and not the truth as we wish it to be, allows for a better grip of messaging.
Creating authentic messaging with your story allows for the strategy, products, and security to come together correctly and create a melody that can be heard over the same old harmonies sung by everyone else.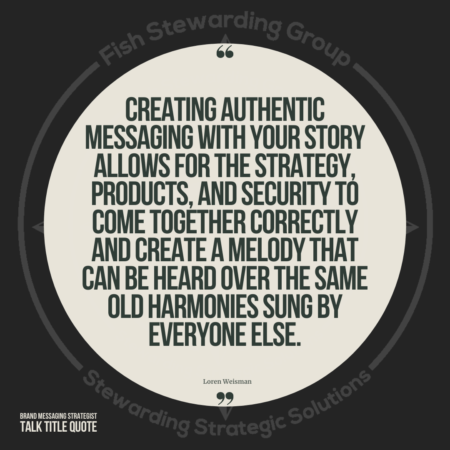 Download the PDF for the Talk Title here:
Brand messaging blueprint strategies for creative careers PDF
Or visit Loren's speaker info page here:
Loren Weisman Speaking and Information Outline Page
*******
Brand Messaging Strategist Loren Weisman is a messaging and optics strategist for The Fish Stewarding Group.
Fish Stewarding Group is stewarding strategic solutions and b
uilding authoritative businesses with authentically sound people.
Loren focuses on the authenticity, authority, psychology and perceptions of the message and story.
Weisman is also the host of the FSG brand messaging podcast; Wait What Really OK.
*******
Fish Stewarding Group
2073 FM 89 Buffalo Gap Rd.
Buffalo Gap, TX 79508, United States
Em: fishstewarding@gmail.com
Ph: 001-407-614-7446
*******

LW Website
FSG Website
LW Socials @lorenweisman
FSG Socials @fishstewarding
*******

Podcast Audible Page
IMDb for Podcast
*******

© 2021 Loren Weisman/Fish Stewarding Group. All Rights Reserved ® ℗
*******