Just because it is legal to do is an archives tag for lorenweisman.com and part of a brand messaging quote from Brand Messaging Strategist Loren Weisman.

Just because it is legal to do
It may make you stand out more than spamming, hyping, lying  & using false engagement tactics.
Just because it is legal to do, it does not make it an ethical, honorable, moral or professional choice.
Sometimes it can be appealing to use tactics that while being legal are off in other areas, and that is for you to decide. Still, at the root of your foundation, for what they see and what they do not, consider standing on a solid ground that you can be proud of in a place of love over acting with fear to try to grab a popularity by using tactics that you would not be proud of or admit to using.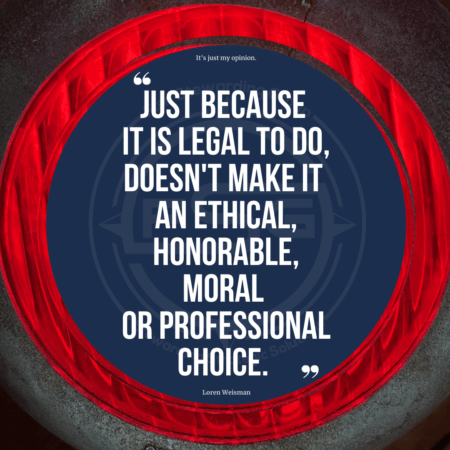 *******
Brand Messaging Strategist Loren Weisman is commissioned by the Fish Stewarding Group.
Loren focuses on the authenticity, authority, psychology, liability and transparency of the message.
He is also the host of the brand messaging podcast; Wait What Really OK.
*******
Fish Stewarding Group
& FSG Messaging and Optics
Building authoritative businesses with authentically sound people.
*******
LW Website
LinkedIn
YouTube
Facebook
IMDb
Pinterest
Send2Press
Google Business
*******
Brand Messaging Podcast Links:
Pandora
iHeartRadio
Apple Podcasts
Amazon Music
Spotify
Google Podcasts
*******
© 2021 Loren Weisman/ Fish Stewarding Group, All Rights Reserved ® ℗
*******