Listen to advice and accept discipline is an archives tag for lorenweisman.com and the lead of a bible messaging quote and verse shared by Loren Weisman.
Listen to advice and accept discipline
In our humility and our ability to listen, we have a greater chance of learning and becoming wise. At the same time, if we can accept discipline for our mistakes and hold ourselves accountable with out getting overly sensitive or shut down, we again, grow the chances to grow that much more from the good and the bad experiences.
Those that can listen to learn and accept change and correction with out being offended or taking it personally have a better chance in any business or for that matter any relationship.
"Listen to advice and accept discipline, and at the end you will be counted among the wise." – Proverbs 19:20 NIV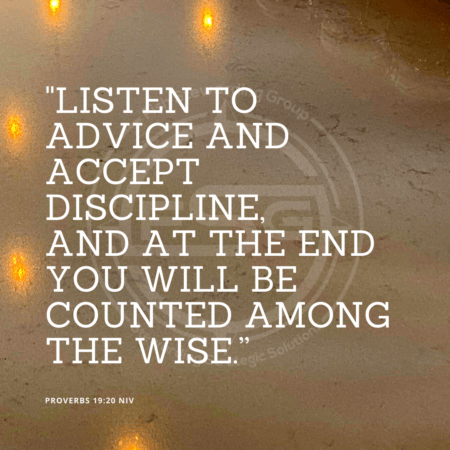 *******
Brand Messaging Strategist Loren Weisman is a messaging and optics strategist for The Fish Stewarding Group.
Fish Stewarding Group is stewarding strategic solutions and b
uilding authoritative businesses with authentically sound people.
Loren focuses on the authenticity, authority, psychology and perceptions of the message and story.
Weisman is also the host of the FSG brand messaging podcast; Wait What Really OK.
*******
Fish Stewarding Group
2073 FM 89 Buffalo Gap Rd.
Buffalo Gap, TX 79508, United States
Em: fishstewarding@gmail.com
Ph: 001-407-614-7446
*******

LW Website
FSG Website
LW Socials @lorenweisman
FSG Socials @fishstewarding
*******

Podcast Audible Page
IMDb for Podcast
*******

© 2021 Loren Weisman/Fish Stewarding Group. All Rights Reserved ® ℗
*******