Methodically messaging in a harmony is an archives tag for lorenweisman.com and a start of a brand messaging quote from Messaging Strategist Loren Weisman.
Methodically messaging in a harmony…

in a harmony of honor, humility, authenticity and authority may create more resonation for your story to be heard by that many more connections.
When we create music in the authoring and performance of our words, it can be a great step to consider the other tones from others that might mute us, make us sound the same as others.
In that humility and awareness, we can create a harmony and a melody in our messaging that can stand true, authentic and amplify with out the hype and oversaturated same old song and dance.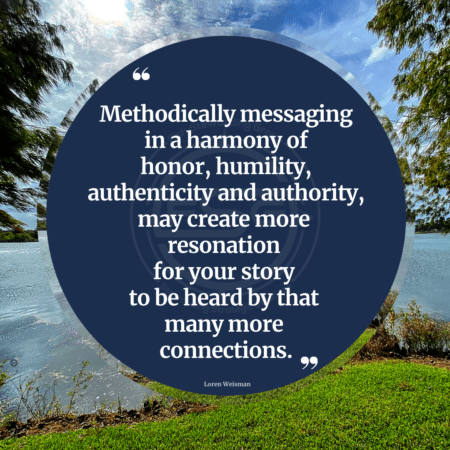 *******
Brand Messaging Strategist Loren Weisman is a messaging and optics strategist for The Fish Stewarding Group.
Fish Stewarding Group is stewarding strategic solutions and b
uilding authoritative businesses with authentically sound people.
Loren focuses on the authenticity, authority, psychology and perceptions of the message and story.
Weisman is also the host of the FSG brand messaging podcast; Wait What Really OK.
*******
Fish Stewarding Group
2073 FM 89 Buffalo Gap Rd.
Buffalo Gap, TX 79508, United States
Em: fishstewarding@gmail.com
Ph: 001-407-614-7446
*******

LW Website
FSG Website
LW Socials @lorenweisman
FSG Socials @fishstewarding
*******

Podcast Audible Page
IMDb for Podcast
*******

© 2021 Loren Weisman/Fish Stewarding Group. All Rights Reserved ® ℗
*******