Sharing the same exact content is an archives tag for lorenweisman.com and the lead to one of the brand messaging strategist quotes from Loren Weisman.
Sharing the same exact content
As you look to expand your story, with your content and your messaging, you can build with authenticity over trying to choose the popular words of the moment and repeating the same sales, the same quotes and the same old message that is not yours.
Sharing the same exact content, message or advertisements over and over again only showcases your limited content and a serious lack of depth in your message.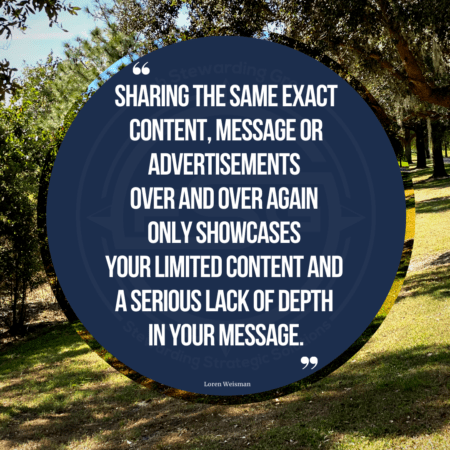 More Brand Messaging Strategist Quotes are available at:
Weisman Quotes on IMDb
GoodReads
Quotes.Net
OwnQuotes
QuotesSayings.net
Quotes on Instagram
Quotes on Pinterest
*******
Brand Messaging Strategist Loren Weisman is a messaging and optics strategist for The Fish Stewarding Group.
Fish Stewarding Group is stewarding strategic solutions and b
uilding authoritative businesses with authentically sound people.
Loren focuses on the authenticity, authority, psychology and perceptions of the message and story.
Weisman is also the host of the FSG brand messaging podcast; Wait What Really OK.
*******
Fish Stewarding Group
2073 FM 89 Buffalo Gap Rd.
Buffalo Gap, TX 79508, United States
Em: fishstewarding@gmail.com
Ph: 001-407-614-7446
*******

LW Website
FSG Website
LW Socials @lorenweisman
FSG Socials @fishstewarding
*******

Podcast Audible Page
IMDb for Podcast
*******

© 2021 Loren Weisman/Fish Stewarding Group. All Rights Reserved ® ℗
*******