The simple believe anything is an archives tag for lorenweisman.com and is a lead for both a bible messaging quote and a theme for some of the articles.
The simple believe anything
Not calling any one simple, but take that complex look when people share their facts and their opinions. Looking deeper in trust, steps and clarity as well as accountability before believing something, it can put you in a stronger place and give you a greater calm and peace.
Take the time, vet, review and be prudent with your trust and beliefs. Be excited, but stay grounded.
"The simple believe anything, but the prudent give thought to their steps."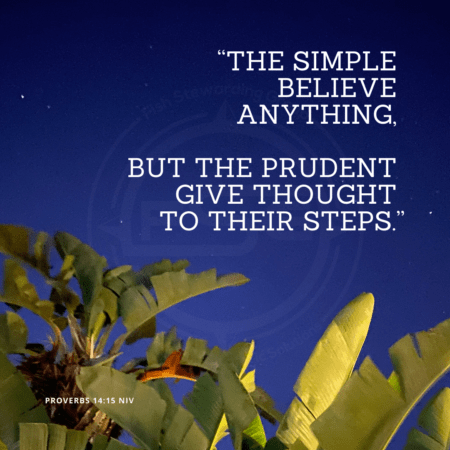 *******
Brand Messaging Strategist Loren Weisman is a messaging and optics strategist for The Fish Stewarding Group.
Fish Stewarding Group is stewarding strategic solutions and b
uilding authoritative businesses with authentically sound people.
Loren focuses on the authenticity, authority, psychology and perceptions of the message and story.
Weisman is also the host of the FSG brand messaging podcast; Wait What Really OK.
*******
Fish Stewarding Group
2073 FM 89 Buffalo Gap Rd.
Buffalo Gap, TX 79508, United States
Em: fishstewarding@gmail.com
Ph: 001-407-614-7446
*******

LW Website
FSG Website
LW Socials @lorenweisman
FSG Socials @fishstewarding
*******

Podcast Audible Page
IMDb for Podcast
*******

© 2021 Loren Weisman/Fish Stewarding Group. All Rights Reserved ® ℗
*******