Using Brand Licensed Content is an archives tag for lorenweisman.com and part of a brand messaging quote from Brand Messaging Strategist Loren Weisman.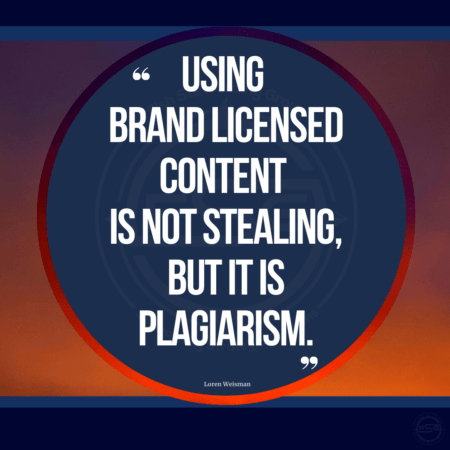 Using brand licensed content
You are ok if you choose to use it and it would even hold up in court. Still, when you buy content and add a signature, a couple lines, a graphic and a story to it and choose to pass it off as your own, that is plagiarism.
Is that really how you want to be seen or found out by your audience? No judgement here, if it is, but in a time of toxicity, half truths and deception, it might be a better route to stay true with your audience.
Consider honesty, integrity and transparency in your engagement over hype, looking for more popularity and using deceptive tactics to lure people in.
Using brand licensed Content is not stealing but it is plagiarism.
*******
Brand Messaging Strategist Loren Weisman is a messaging and optics strategist for The Fish Stewarding Group.
Fish Stewarding Group is stewarding strategic solutions and b
uilding authoritative businesses with authentically sound people.
Loren focuses on the authenticity, authority, psychology and perceptions of the message and story.
Weisman is also the host of the FSG brand messaging podcast; Wait What Really OK.
*******
Fish Stewarding Group
2073 FM 89 Buffalo Gap Rd.
Buffalo Gap, TX 79508, United States
Em: fishstewarding@gmail.com
Ph: 001-407-614-7446
*******

LW Website
FSG Website
LW Socials @lorenweisman
FSG Socials @fishstewarding
*******

Podcast Audible Page
IMDb for Podcast
*******

© 2021 Loren Weisman/Fish Stewarding Group. All Rights Reserved ® ℗
*******