Wait What Really OK is an archives tag for lorenweisman.com and the name of the FSG Messaging and Optics Podcast hosted by Loren Weisman.
Wait What Really OK Messaging and Optics Podcast
The FSG Messaging and Optics Podcast Wait What Really OK is Part Radio Show, Part Podcast, Part Strategy & Part Comic Relief that takes apart the misconceptions, misunderstandings and mistakes of online branding, messaging and optics by delivering up to date, easy to understand information that can be applied to your messaging, regardless of your business.
Wait What Really OK is A methodical, comical and informational podcast  sharing authentic brand messaging, optics approaches & strategies for honorable authority driven businesses.
Host, Loren Weisman is a Messaging and Optics Strategist with a focus on the authenticity, authority, optics, psychology and perceptions of a brand, persona or product for The Fish Stewarding Group.
This Messaging and Optic Podcast is available on Pandora, iHeart, Apple Podcasts, Spotify, Google Podcasts, Stitcher, TuneIn, Radio Public, Castbox, Podcast Addict, Pocket Casts, Podbean, Acast, Audio Burst, Plex, Anchor, Jio Saavn, Spreaker, Ivoox, Overcast, Blubrry, Bullhorn, Podbay, Podchaser, Gaana, Podhero, Himalaya, Deezer, Chartable, Player.Fm, Digital Podcast, Listen Notes, Goodpods, Podtail, Learn Out Loud, American Podcasts, Mixcloud, Soundcloud, Hubhopper, Podscribe.Ai, Audry, Podfollow, Podcasts.com, Go Pod Me, Podcasters Directory, YouTube, IMDb, RSS Feed and other locations.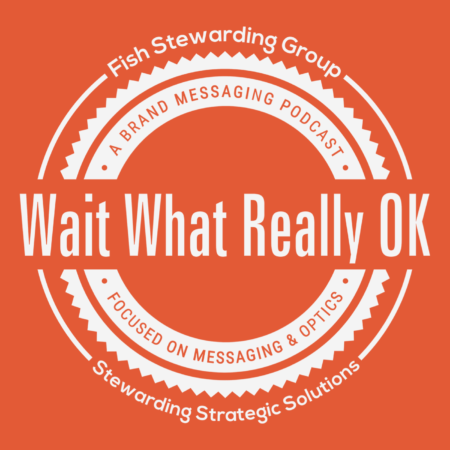 Fish Stewarding Group is bearing the weight of messaging, strategy, finance and development by coming along side. FSG is stewarding strategic solutions by only building authoritative businesses with authentically sound people. FSG Development and FSG Living are presently developing, designing and creating Living Buildings, Living Homes and Living Villages for the discerning and attention to detail buyer.
The divisions of Fish Stewarding Group include:
FSG Development
FSG Living
FSG Living Buildings
FSG Living Panels
FSG Living Homes
FSG Living Village
FSG Africa
FSG Messaging and Optics
FSG ELC
Liberating Water Directive
FSG Realty
FSG Living Roads
FSG Publishing
*
Loren Weisman is a messaging and optics strategist for The Fish Stewarding Group (FSG). Weisman keeps a focus on the communication, connotations, engagement, compliance and stability of each brand, persona or product.
*
Fish Stewarding Group is stewarding strategic solutions by only building authoritative businesses with authentically sound people. The FSG branches include FSG Messaging and Optics, FSG Development, FSG Living Villages, FSG Living Homes, FSG Living Buildings, FSG Living Panels,  FSG Realty, as well as FSG Africa. FSG is bearing the weight of messaging, strategy, finance and development by coming along side.
*
Weisman is also the host of the FSG messaging and optics podcast; Wait What Really OK.
*
Fish Stewarding Group
FSG Development
FSG Living
6586 E Interstate 20
Abilene, Texas
79601-7640
USA
*
FSG Ph: 325-400-6950
FSG Em: moreinfo@fishstewarding.com
*
LW Website
FSG Website
Spotify Page for WWROK
*
© 2023 Loren Weisman/Fish Stewarding Group. All Rights Reserved ® ℗
*