A straightforward answer to is an archives tag for lorenweisman.com and part of a brand messaging strategist Loren Weisman quote.
A straightforward answer to…
any question is better than the redirecting and the misleading answers that some chose to share. When you take accountability and honor to heart, then answer with the truth, even if it is not something, some one wants to hear, it can help with trust and next steps in any situation.
"A straightforward answer to a straightforward question will move you that much more forward in this world, that much faster. And get things fixed, that much quicker."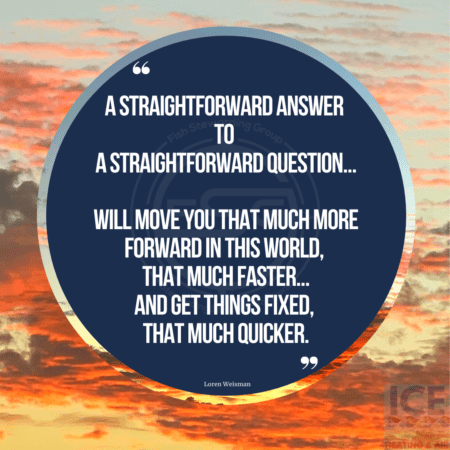 Take the road of honor. Answer with that same honor and then go into the details. It can build trust in a much better way than ducking, dodging and shifting around things you do not want to say.
More Brand Messaging Strategist Quotes are available at:
Weisman Quotes on IMDb
GoodReads
Quotes.Net
OwnQuotes
QuotesSayings.net
Quotes on Instagram
Quotes on Pinterest
*******
Brand Messaging Strategist Loren Weisman is a messaging and optics strategist for The Fish Stewarding Group.
Fish Stewarding Group is stewarding strategic solutions and b
uilding authoritative businesses with authentically sound people.
Loren focuses on the authenticity, authority, psychology and perceptions of the message and story.
Weisman is also the host of the FSG brand messaging podcast; Wait What Really OK.
*******
Fish Stewarding Group
2073 FM 89 Buffalo Gap Rd.
Buffalo Gap, TX 79508, United States
Em: fishstewarding@gmail.com
Ph: 001-407-614-7446
*******

LW Website
FSG Website
LW Socials @lorenweisman
FSG Socials @fishstewarding
*******

Podcast Audible Page
IMDb for Podcast
*******

© 2021 Loren Weisman/Fish Stewarding Group. All Rights Reserved ® ℗
*******