Amplified authentic opinions is an archives tag for lorenweisman.com as the subject of a podcast on opinions.
Amplified authentic opinions
When the opinions are heard, respected and honored, the resulting intelligence can become that much more authoritative and useful across the board.
Moving and communicating with opinions can help amplify your voice over many that shift opinions into facts. When you choose a communication style that brings in the humility and the differentiations between the subjective and the objective, it can allow for better conversations.
Also, it may open the door to a shift of opinion of the person you are talking to with them making it their choice, over you telling them that they are wrong.
"Amplified authentic opinions can be driven with passion while still anchored in respect for those that have a different view."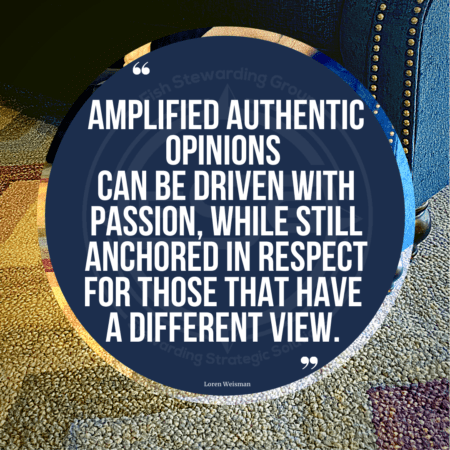 *
Loren Weisman is a messaging and optics strategist for The Fish Stewarding Group.
Weisman is also the host of the FSG messaging and optics podcast; Wait What Really OK.
*
Fish Stewarding Group
FSG Development
FSG Messaging and Optics
*
649 Scott Street
Suite #101A
Tye, Texas, 79563-2225,
USA
*
LW Website
FSG Website
*
© 2022 Loren Weisman/Fish Stewarding Group. All Rights Reserved ® ℗
*