Authenticity cannot be automated is an archives tag from lorenweisman.com and a quote from Brand Messaging Strategist Loren Weisman.
Authenticity cannot be automated.
In a day when everything is being automated and made a little more streamlined, consider remembering that authenticity is one thing that cant be.
In all the tricks, toys and tactics to be used to get your messaging and you out there, stay rooted to the authenticity in you and at the core. Some things will take a little longer when they are done right and they do need to be done that way. Streamline what you can technically, but please stop at the authenticity point to ensure that you are getting across as yourself with your story and your authority.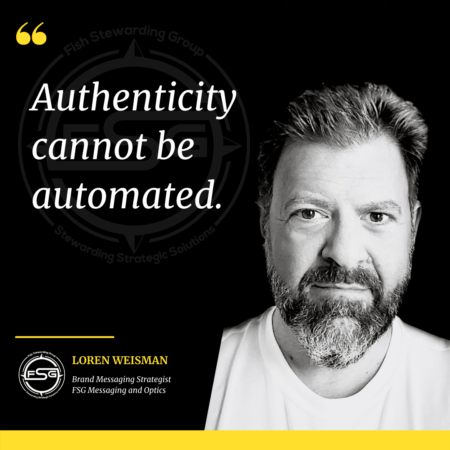 *******
Brand Messaging Strategist Loren Weisman is a messaging and optics strategist for The Fish Stewarding Group.
Fish Stewarding Group is stewarding strategic solutions and b
uilding authoritative businesses with authentically sound people.
Loren focuses on the authenticity, authority, psychology and perceptions of the message and story.
Weisman is also the host of the FSG brand messaging podcast; Wait What Really OK.
*******
Fish Stewarding Group
2073 FM 89 Buffalo Gap Rd.
Buffalo Gap, TX 79508, United States
Em: fishstewarding@gmail.com
Ph: 001-407-614-7446
*******

LW Website
FSG Website
LW Socials @lorenweisman
FSG Socials @fishstewarding
*******

Podcast Audible Page
IMDb for Podcast
*******

© 2021 Loren Weisman/Fish Stewarding Group. All Rights Reserved ® ℗
*******