The archives tag page for the keyword phrase Online Motivation and Inspiration which is part of a Loren Weisman quote discussion motivation addiction.


Online Motivation and Inspiration
Motivation and inspirational posts, coaches and content feels like it is everywhere online these days. Many have been able to make a very good living off of the hype and positivity of it. The problem I see is that it seems many have come to a place of an almost addiction like level with it.
"Online motivation and inspiration with little information or authentic and authoritative direction seems to be on the same level as the addiction to online porn.
Both can be seen as unrealistic, empty distortions of reality that feed a moment but do not help in the long term."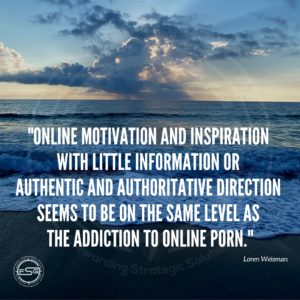 Lastly, consider that building something is not always going to feel good. That it can be frustrating, that it is not always going to be as fast as you like or as affordable as you like. Many may state otherwise, but consider that if you are building anything sound, solid and secure, it might not be as easy as many of these hype types claim.
*
Loren Weisman is a messaging and optics strategist for The Fish Stewarding Group.
Weisman is also the host of the FSG messaging and optics podcast; Wait What Really OK.
*
Fish Stewarding Group
FSG Development
FSG Messaging and Optics
*
649 Scott Street
Suite #101A
Tye, Texas, 79563-2225,
USA
*
LW Website
FSG Website
*
© 2022 Loren Weisman/Fish Stewarding Group. All Rights Reserved ® ℗
*
Online motivation and inspiration