Whoever can be trusted with very little is an archives tag for lorenweisman.com and part of a bible messaging quote and verse from Luke 16:10 NIV.
Whoever can be trusted with very little
When we step back and show how we work, how we can be trusted and how we operate with little, we highlight what we can do with so much more.
Many try to get as much power, as much responsibility and aim to get into the biggest positions instead of showing what they are capable of with the smaller tasks.
At the same time, when given a small task, it gets pushed aside by some. They see it as too small for them and in turn, they do a bad job with it.
When we work as hard on the little things, it can highlight just what we may be able to do with the bigger tasks and how be can be offered greater trust.
That is why I chose this Bible Messaging Quote from Luke.
"Whoever can be trusted with very little can also be trusted with very much, and whoever is dishonest with very little will also be dishonest with much."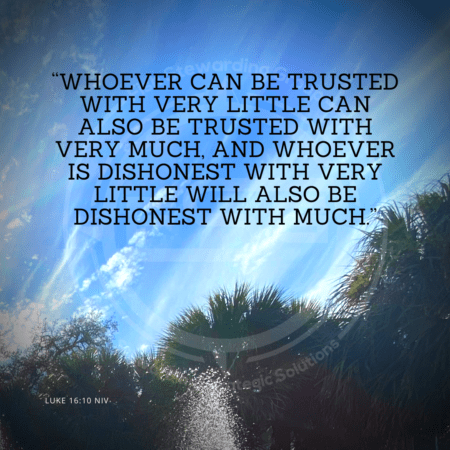 *******
Brand Messaging Strategist Loren Weisman is a messaging and optics strategist for The Fish Stewarding Group.
Fish Stewarding Group is stewarding strategic solutions and b
uilding authoritative businesses with authentically sound people.
Loren focuses on the authenticity, authority, psychology and perceptions of the message and story.
Weisman is also the host of the FSG brand messaging podcast; Wait What Really OK.
*******
Fish Stewarding Group
2073 FM 89 Buffalo Gap Rd.
Buffalo Gap, TX 79508, United States
Em: fishstewarding@gmail.com
Ph: 001-407-614-7446
*******

LW Website
FSG Website
LW Socials @lorenweisman
FSG Socials @fishstewarding
*******

Podcast Audible Page
IMDb for Podcast
*******

© 2021 Loren Weisman/Fish Stewarding Group. All Rights Reserved ® ℗
*******