Are you sharing content is an archives tag for lorenweisman.com and an FSG messaging and optics strategist quote from Loren Weisman.

Are you sharing
There is a difference and it may make a very big difference in who chooses to connect with you.
Sharing content to appear stronger or are you sharing content to present your authentic strength?
Consider sharing the pieces of content that showcase you and ability over the usual hype that too many use to try to pull in as many as possible.
If you choose to attract with honor not false words and hype, it may allow you to bring a whole new spectrum of true connections of value.
Take the time to choose what you put out there and it allow it to compound with honor over only be promoting and marketing style tactics.
With so many taking a different route, you may be able to highlight yourself with greater authenticity than others just trying to go after popularity.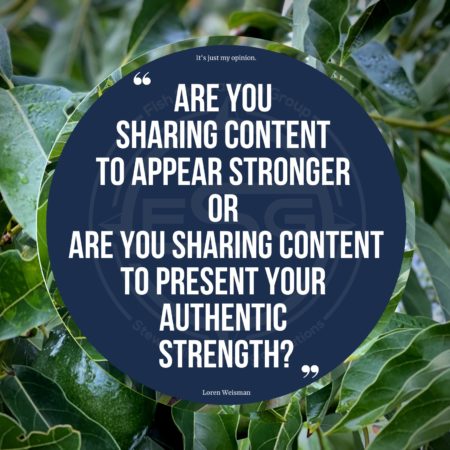 *
Loren Weisman is a messaging and optics strategist for The Fish Stewarding Group (FSG). Weisman keeps a focus on the communication, connotations, engagement, compliance and stability of each brand, persona or product.
*
Fish Stewarding Group is stewarding strategic solutions by only building authoritative businesses with authentically sound people. The FSG branches include FSG Messaging and Optics, FSG Development, FSG Living Homes, FSG Living Buildings, FSG Living Panels, FSG Living Roads, FSG Realty, Gardens of Tye as well as FSG Africa. FSG is bearing the weight of messaging, strategy, finance and development by coming along side.
*
Weisman is also the host of the FSG messaging and optics podcast; Wait What Really OK.
*
Fish Stewarding Group
1351 Scott Street
Tye, Texas, 79563,
USA
*
LW Website
FSG Website
Podcast Audible Page
*