Choices made in fear is an archives tag for lorenweisman.com and a quote from FSG messaging and optics strategist Loren Weisman about fear.
Choices made in fear
The last year has revealed a great deal about the authenticity, authority and transparency in many.
Choices made in fear to fix the moment can poison the future.
Highlighting those that stand in love as well as a great deal of spotlighting on those that act in fear, hype and lies.
Consider look at the future even in the present moment. Some times the choices might seem right for the moment and they end up being a problem for down the line. if the choice is not centered or feels like it is rushed or words are used to distort or amplify the truth, then that might not be the true choice that will serve you best.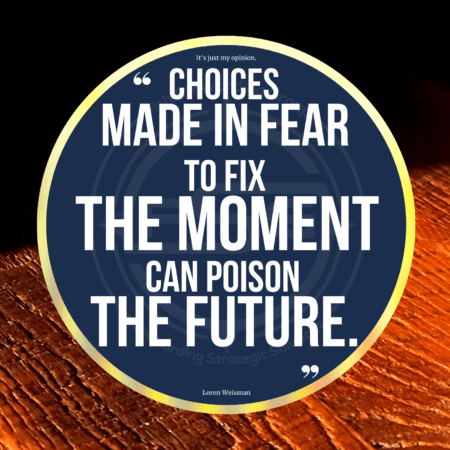 *
Loren Weisman is a messaging and optics strategist for The Fish Stewarding Group and its branches that include FSG Messaging and Optics (FSG MNO), FSG Development, FSG Living Homes, FSG Living Buildings, FSG Living Roads, FSG Realty, Gardens of Tye as well as FSG Africa. FSG is bearing the weight of messaging, strategy, finance and development by coming along side. Weisman is also the host of the FSG messaging and optics podcast; Wait What Really OK.
*
Fish Stewarding Group
649 Scott Street
Suite #101A
Tye, Texas, 79563-2225,
USA
*
LW Website
FSG Website
Podcast Audible Page
*
© 2023 Loren Weisman/Fish Stewarding Group. All Rights Reserved ® ℗
*