FSG Messaging and Optics is the first step to bring a business through the organizational strategy first to create the right foundation for all to be built on or corrected. The Organizational Strategy arm of the Fish Stewarding Group is called FSG Messaging and Optics.
Every project that the Fish Stewarding Group touches, first runs through a Discovery Deep Dive through FSG Messaging and Optics.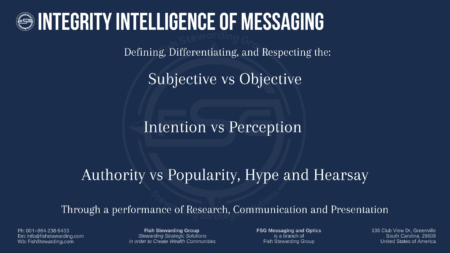 FSG Messaging and Optics
With this completed, the final deliverables and data of the discovery dive are delivered in a comprehensive report conducted over a series of stewarding phone or in person sessions, word documents, excel sheets, videos, images and audios for the clients keeping.
Included are all findings, recommendations across the seven fundamental strategic and operational touch points as well as the advised mobilization, sequencing and direction we believe will be the correct path forward.