A single experience can make someone is an archives tag for lorenweisman.com and the lead of a brand messaging strategist quote from Loren Weisman.
A single experience can make someone
When it comes to direction and implementation, consider listening more to those that have accumulated an array of experiences, education and authority over time, instead of giving too much credit to an individual who gained short term popularity in a moment and is trying to pass it off as long term authority. 
A single experience can make someone a celebrity, but it does not make them an authority.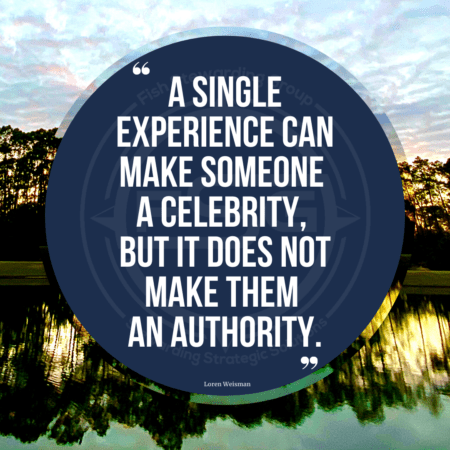 *******
Brand Messaging Strategist Loren Weisman is a messaging and optics strategist for The Fish Stewarding Group.
Fish Stewarding Group is stewarding strategic solutions and b
uilding authoritative businesses with authentically sound people.
Loren focuses on the authenticity, authority, psychology and perceptions of the message and story.
Weisman is also the host of the FSG brand messaging podcast; Wait What Really OK.
*******
Fish Stewarding Group
2073 FM 89 Buffalo Gap Rd.
Buffalo Gap, TX 79508, United States
Em: fishstewarding@gmail.com
Ph: 001-407-614-7446
*******

LW Website
FSG Website
LW Socials @lorenweisman
FSG Socials @fishstewarding
*******

Podcast Audible Page
IMDb for Podcast
*******

© 2021 Loren Weisman/Fish Stewarding Group. All Rights Reserved ® ℗
*******