Are you trying to control and guide truth is an archives tag for lorenweisman.com and part of a quote from FSG Messaging and Optics Strategist Loren Weisman.
Are you trying to control and guide truth
This quote from FSG Messaging and Optics Brand Messaging Strategist Loren Weisman addresses how people shift things to achieve control of popularity, more people, easier sales and so on.
Other Brand Messaging Quotes are available from Loren Weisman on the website as well as through the links below on GoodReads, Quotes.net, IMDb and Ownquotes.
Are you trying to control and guide truth or are you allowing truth to control and guide you?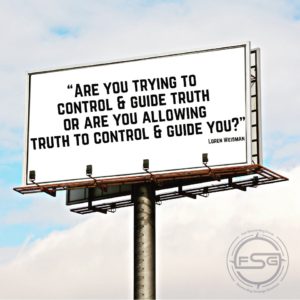 As simple as a question as it is, consider your answer as you are approaching your marketing, your clients and even your fears when things are a little rougher and more challenging.
Consider staying connected to the honor over trying to alter the honor to make it fit your story. It allows you to honor everyone, including yourself.
Take humility into consideration and stand with conviction with what is there over trying to create a story that suits you but does not stand real.
More FSG Messaging and Optics Strategist Quotes are available at:
Weisman Quotes on IMDb
GoodReads
Quotes.Net
OwnQuotes
QuotesSayings.net
Quotes on Instagram
Quotes on Pinterest
Fish Stewarding Group is bearing the weight of messaging, strategy, finance and development by coming along side. FSG is stewarding strategic solutions by only building authoritative businesses with authentically sound people. FSG Development and FSG Living are presently developing, designing and creating Living Buildings, Living Homes and Living Villages for the discerning and attention to detail buyer.
The divisions of Fish Stewarding Group include:
FSG Development
FSG Living
FSG Living Buildings
FSG Living Panels
FSG Living Homes
FSG Living Village
FSG Africa
FSG Messaging and Optics
FSG ELC
Liberating Water Directive
FSG Realty
FSG Living Roads
FSG Publishing
*
Loren Weisman is a messaging and optics strategist for The Fish Stewarding Group (FSG). Weisman keeps a focus on the communication, connotations, engagement, compliance and stability of each brand, persona or product.
*
Fish Stewarding Group is stewarding strategic solutions by only building authoritative businesses with authentically sound people. The FSG branches include FSG Messaging and Optics, FSG Development, FSG Living Villages, FSG Living Homes, FSG Living Buildings, FSG Living Panels,  FSG Realty, as well as FSG Africa. FSG is bearing the weight of messaging, strategy, finance and development by coming along side.
*
Weisman is also the host of the FSG messaging and optics podcast; Wait What Really OK.
*
Fish Stewarding Group
FSG Development
FSG Living
6586 E Interstate 20
Abilene, Texas
79601-7640
USA
*
FSG Ph: 325-400-6950
FSG Em: moreinfo@fishstewarding.com
*
LW Website
FSG Website
Spotify Page for WWROK
*
© 2023 Loren Weisman/Fish Stewarding Group. All Rights Reserved ® ℗
*