Is your brand messaging telling is an archives tag for lorenweisman.com and the start of a brand messaging quote from Loren Weisman.
Is your brand messaging telling..
Is it telling or sounding like someone else and something else that is a template that does not fit your mold, your vibe, your story or your authority?
That's why I ask in the quote below to think very carefully as you write your story or have others help you with you story that it is coming from you, about you and in your voice.
So many use words of popularity over words of authenticity and authority to try to hype up what they are not, instead of highlighting what they are.
Be true. Be you.
"Is your brand messaging telling a story or is it telling your story?"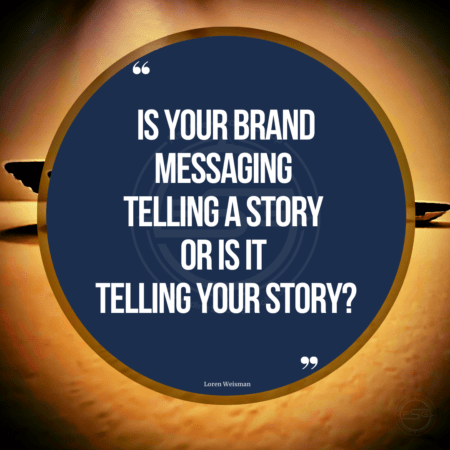 More Brand Messaging Strategist Quotes are available at:
Weisman Quotes on IMDb
GoodReads
Quotes.Net
OwnQuotes
QuotesSayings.net
Quotes on Instagram
Quotes on Pinterest
*******
Brand Messaging Strategist Loren Weisman is a messaging and optics strategist for The Fish Stewarding Group.
Fish Stewarding Group is stewarding strategic solutions and b
uilding authoritative businesses with authentically sound people.
Loren focuses on the authenticity, authority, psychology and perceptions of the message and story.
Weisman is also the host of the FSG brand messaging podcast; Wait What Really OK.
*******
Fish Stewarding Group
2073 FM 89 Buffalo Gap Rd.
Buffalo Gap, TX 79508, United States
Em: fishstewarding@gmail.com
Ph: 001-407-614-7446
*******

LW Website
FSG Website
LW Socials @lorenweisman
FSG Socials @fishstewarding
*******

Podcast Audible Page
IMDb for Podcast
*******

© 2021 Loren Weisman/Fish Stewarding Group. All Rights Reserved ® ℗
*******