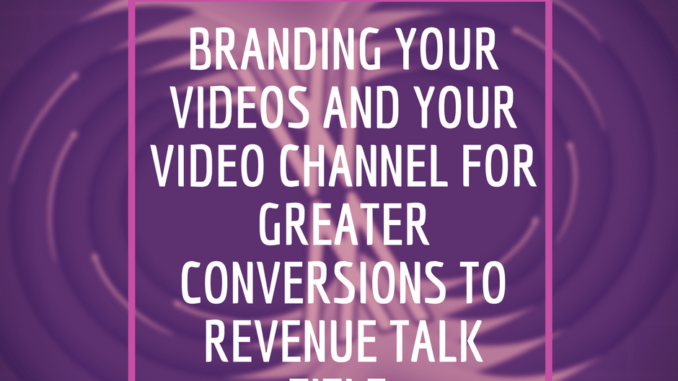 Branding Your Videos And Your Video Channel Talk Title Description. A brand messaging and optics podcast blog supplement for Wait What Really Ok Podcast Episode 72, "Why failure is an option and why are we so afraid of failure?"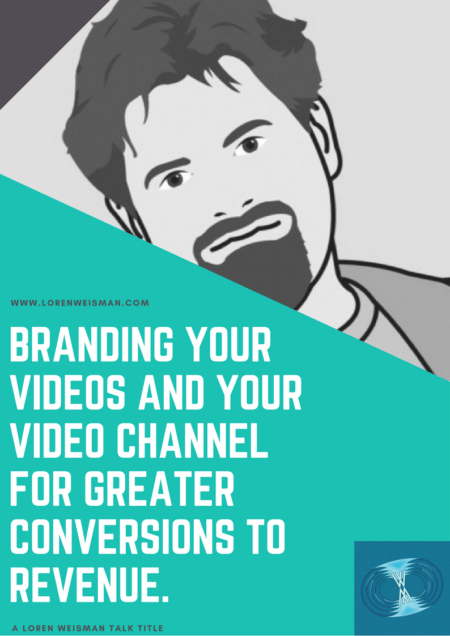 Branding your videos and your video channel talk title description.
The Talk Title Description for Brand Messaging and Optics Speaker Loren Weisman's talk titled Branding your videos and your video channel for greater conversions to revenue. This talk digs into the the who, what, when, where and why of videos online. Taking the right steps and creating a template that makes videos easier, life easier and conversions easier is the overlying goal of the talk.
Video marketing is often overlooked, simplified and not given the due attention it deserves. Businesses tend to jump to one spectrum or the other of either spending way too much on videos and putting up well-produced videos that do not convert or they don't put up any because they think it takes a professional video to convert.
The most successful videos and video channels do not require a camera crew, but they do require a branded strategy to allow all the different working pieces to work for you and your message. By having a solid branded plan for your videos, signatures, content that will be added to each video as well as a customized and personalized template, every video can in a sense help every other video.
Branding your videos and your video channel. It is core, key, and a must.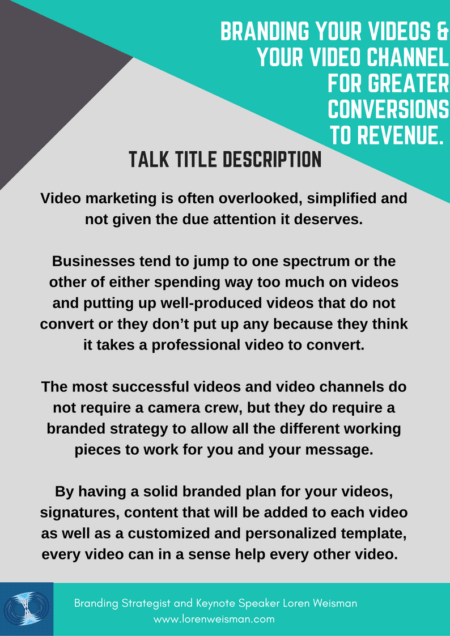 The idea is to make creating and posting videos much easier while being less time consuming and more effective for their SEO and their searches online to allow for better sales and promotion in the end. The greatest video that is not properly titled, formatted for content or time and is not uniform with a brand strategy behind it will be harder to be found.
On the opposite side of things, a well-branded video channel with playlists set up correctly and videos formatted with consideration for time, content, keywords and themes can make a great difference in your overall marketing plan. Finally making videos that take a more personalized messaging approach over just advertising can help for greater connections and engagement which then draws a true connection to you, your brand and your message. The authenticity and authority of your video delivery will help you stand out in an oversaturated world of boring.
Talk title takeaways.
In this workshop you will learn:
How to create a video channel that will allow for the best results in SEO and being found online.
The branding rules to video uploads from time length to title length.
How to create, organize and optimize playlists.
The effective content and signature plans for videos
How an iPhone can create a video just as effective as a top-notch camera
Psychological elements to bring in to your videos.
Titling for having your brand being found and not titling your brand.
Best practices and tips to create a template that will be easy to apply to every video you post moving forward.
Presenter Loren Weisman
Loren Weisman is a brand messaging and optics strategist with a focus on the authenticity, authority, optics, psychology and perceptions of a brand, persona or product for The Fish Stewarding Group. FSG is stewarding strategic solutions by educating, developing and transitioning businesses through strategic guidance and process architecture.
Weisman has stayed up to date with the constant changes inside and outside of the entertainment industries over the past three decades as well as keeping up with the pulse and optics of content creation, marketing, promotion, and social media trends, allowing for the most effective, and up to date consideration when applying the individualized and personalized methods, approaches and plans.
Starting his career in music and behind the scenes as a drummer and then music producer, Weisman got to see the ins, outs, ups and downs of music. Shifting to TV production as well as authoring a few books on the music business, Loren gravitated and shifted toward the strategic production elements as much as he did the psychological ones. From speaking and counseling on brand messaging to brand discovery, analyzing the two sides of artistic vision while igniting the investor confidence, as well as brand protection and amplifications approaches for marketing, sales and retention, Weisman helps across the array of the story and the messaging experience.
Loren's speaking and talks focus on the brand messaging strategies, marketing perceptions, audience optics and authentic engagement methods.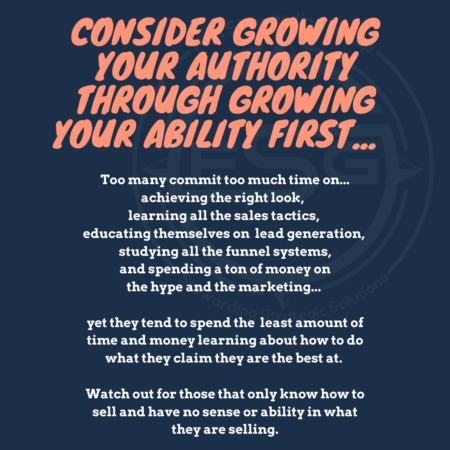 Download the four-page Talk Title PDF for the Branding your Videos and Video Channel Talk Title here:  Talk Title Link
To book Loren for this talk or others, visit https://lorenweisman.com/ for more information.
When you realize the power of videos and the way they can optimize that much faster and reach that much farther, put the efforts into the authenticity over the flash and quality of the recording to get the results. Stay away from the mind set of needing video crews to do every video and realize that the content that goes below can draw that many more people to you and your message.
*
Loren Weisman is a messaging and optics strategist for The Fish Stewarding Group.
Weisman is also the host of the FSG messaging and optics podcast; Wait What Really OK.
*
Fish Stewarding Group
649 Scott Street
Suite #101A
Tye, Texas, 79563-2225,
USA
*
LW Website
FSG Website
Podcast Audible Page
*
© 2022 Loren Weisman/Fish Stewarding Group. All Rights Reserved ® ℗
*
Branding Your Videos And Your Video Channel Talk Title Description