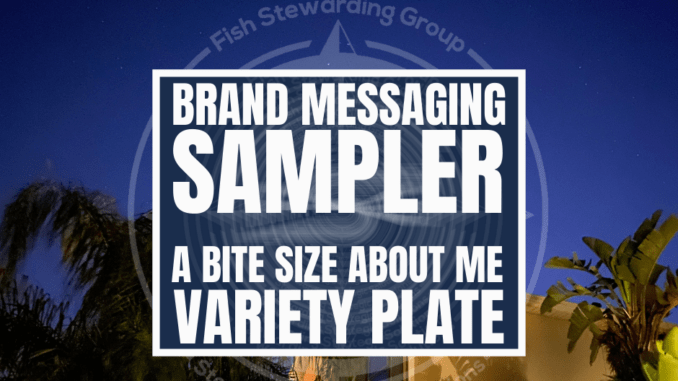 Messaging and Optics Sampler. A bite size about FSG Messaging And Optics Strategist Loren Weisman and an FSG variety plate of info.


A Bite Size Brand Messaging and Optics Sampler page about me, my views, my approach, my beliefs and my links summed up and put into a big ole page of small sampling pieces.
---
This page consists of a whole bunch of links with short introductions and basic explanations to them for those looking to learn a little bit more about me.
I hope this brand messaging strategist sampler page delivers that for you.

---
Loren Weisman is a Brand Messaging and Optics Strategist
Loren focuses on the authenticity, authority, optics, psychology and perceptions of a brand, persona or product.
30 Minute Brand Messaging Mission Statement Podcast Version
3 Minute Brand Messaging Mission Statement Video Version
30 Second Brand Messaging Mission Statement Intro Video
Loren Weisman One Sheet
---
Our preferred way to communicate with clients.
Brand Messaging Communication
An FSG Brand Messaging Strategist Introduction Video
on how we like to work with people from connection to communication.
---
Loren is a messaging and optics strategist for Fish Stewarding Group and its divisions including FSG Messaging and Optics, FSG Development, FSG Equipping and Learning Centers as well as FSG Africa.
---
If you would like Loren for an Interview,
this Interview Information Lead Sheet can be helpful.
---
If you are looking to hire Loren to Speak,
Messaging and Optics Speaker Loren Weisman Overview Page
---
Some Brand Messaging Content and more about the approach and methodology
Loren has a messaging and optics podcast called Wait What Really OK.
Links to podcast players and sites on Linktree
He posts a number of brand messaging quotes online.
He also writes a series of brand messaging blogs and articles.
His brand messaging videos tend to stay in the 3 to 5 minute range.
Most every other link for Loren can be found on the messaging and optics messaging links page.
---
The 3 core tracks
Loren Weisman & FSG Messaging and Optics apply with all clients include:
FSG Process Architecture
FSG Strategic Touch Points
& The FSG Messaging Methods.
---
We are connected with those that understand or want to clarity:
Intention and Perception
The Subjective and Objective
Half truths, expired truths, unrelating truths.
Making it your story over a story
Only using authentic tactics and tools to build with honor and transparency.
---
And we wish to connect with those that want to define their foundation with…
Authenticity and Authority
Protection and Compliance
Accountability and Transparency
Comparisons and Continuity
---
FSG Process Architecture: 
Discovering
Auditing
Authoring
Building
Educating
Protecting
Stewarding
Distributing
---
FSG Messaging Methods…
Love
Honor
Authenticity
Authority
Humility
Clarity
Justice
Patience
Forgiveness
---
A few things to know…
If the above does not work for you, we can not move forward.
If you are not creating in authenticity, authority, love and integrity, we can not move forward.
If you expect it all to be done for you, we can not move forward.
If you are only  focused on profit and not building for a greater good, we can not move forward.
---
If you are coming from an authentic place, a place of authority and integrity as well as a grounding in humility, we would love to have a discussion about how we can proceed.
---
Every project is based and priced according to the individual requirements.
Smaller discovery starting points are preferred for larger projects so we can get a feel of each other.
---
A few more things to know….
We are here to guide, assist, teach and train…
We do not hold your hand.
You are responsible to execute the work and follow through on it after we are done.
We will provide you with the best intelligence, understanding and process architecture possible, in the end, the next steps and the maintenance is up to you.
---
We accept
Most Credit Cards, Zelle, Wells Fargo SurePay, PayPal, Venmo,
World Remit, Domestic and International Wires.
---
Would you like to see a sample of the documents we use with every client?
Here is the project download sample document page that includes samples of invoices, strategic service agreements, Statements of Work, Gratuitous Service Agreements and other documents
---
Phone, in Person or Zoom is fine.
My Zoom email is weismanloren@gmail.com and my Zoom Account is Account No. 3003405613
Coming to work in person, the brand messaging visiting clients page can help with trip details.
Flying me to you, the brand messaging strategist travel page can help with those details.
---
Loren was in the music business for many years.
He wrote a few books on the Music Business available here
Music Business for Dummies Website 
The Artists Guide to Success in the Music Business Website
---
Before requesting an initial one on one, video chat or a call,
Please review the elements from above as well as the client documentation if you are interested in moving forward. Please prepare the questions you may have from the above or any concerns or confusion.
This allows us to have the best conversation possible to get the clarity needed to see if we would be a good fit to work together or not.
---
And we by no means, claim this approach is the right way or the wrong way, but it is our way and the way that we find serves every client, project or product in the best way possible.
---
*
Loren Weisman is a messaging and optics strategist for The Fish Stewarding Group.
Weisman is also the host of the FSG messaging and optics podcast; Wait What Really OK.
*
Fish Stewarding Group
FSG Development
FSG Messaging and Optics
*
649 Scott Street
Suite #101A
Tye, Texas, 79563-2225,
USA
*
LW Website
FSG Website
*
© 2022 Loren Weisman/Fish Stewarding Group. All Rights Reserved ® ℗
*

Brand Messaging Sampler. A bite size about me variety plate.